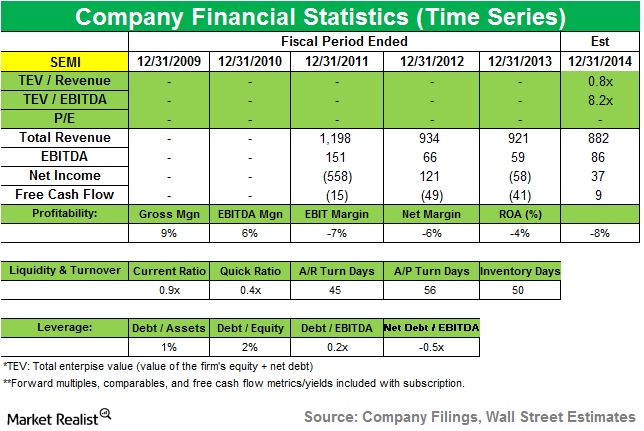 The Baupost Group opens new position in SunEdison Semiconductor
By Samantha Nielson

Aug. 25 2014, Updated 1:00 p.m. ET
The Baupost Group and SunEdison Semiconductor
Seth Klarman's Baupost Group initiated new positions in eBay Inc. (EBAY), Theravance Biopharma Inc. (TBPH), SunEdison Semiconductor (SEMI), and Kosmos Energy (KOS). It fully exited its stake in BP plc (BP).
The Baupost Group added a position in SunEdison Semiconductor (SEMI) that accounted for 1.14% of the fund's total second quarter portfolio.
SunEdison Semiconductor develops, manufactures, and sells silicon wafers to the semiconductor industry. The business was established in 1959. For most of its history, it's been known as MEMC Electronic Materials Inc. (or MEMC). According to its initial public offering (or IPO) filing, the company's largest customers in 2013 were Samsung, Taiwan Semiconductor Manufacturing Company (or TSMC), and STMicroelectronics.
SEMI said it has pioneered the development of the dislocation-free Czochralski (or CZ) silicon crystal growth process and the chemical-mechanical planarization (or CMP) process. It has also pioneered the initial production and commercialization of 100mm and 200mm semiconductor wafers.
It considers itself to be the leader in the development of advanced substrates such as epitaxial (or EPI) wafers and wafers for the silicon-on-insulator (or SOI) market. SOI wafers enable advanced computing and communications applications.
SunEdison Semiconductor makes trading debut in May
Article continues below advertisement
SunEdison Semiconductor operated as a business segment of solar panel maker SunEdison until May 28, 2014, when it was spun off into a publicly traded company. SunEdison Semiconductor said it believes the completion of an IPO as an independent company allows it "to pursue its own strategies, focus on its key markets and customers, and optimize its capital structure."
SunEdison said in its earnings release that the net proceeds of the IPO were $98.2 million after associated fees and expenses. As of June 30, 2014, SunEdison held a 56.8% interest in SunEdison Semiconductor. In connection with the IPO, Samsung and related entities purchased 9,625,578 ordinary shares of SunEdison Semiconductor (or SSL) through a private placement at a price of $13 per share. This resulted in net cash proceeds of $87.3 million.
SunEdison Semiconductor could see profit margin improvements 
A release from Moody's said that Samsung's wafer purchase agreement with SSL and Samsung's $100 million equity investment support Samsung's long-term commitment to SSL and confidence in SSL's capabilities. Moody's expects the company's profit margins to gradually improve during 2014. There will be a reduction in the price of polysilicon supplied by SunEdison to SSL.
The ratings agency also said it expects margins to improve further in 2015 as SSL begins receiving low-cost polysilicon supply after the construction of the SMP polysilicon production plant. The plant is a joint venture of SunEdison, SSL, and Samsung Fine Chemicals.
The release also said that SSL has a small market share—less than 15%—relative to Shin-Etsu and SUMCO. Each company account for 30% of the semiconductor wafer market. They have a high customer concentration. The top three customers accounted for nearly half of 2013 revenues.
Sequential growth in profits for second quarter
In 2Q14, SunEdison Semiconductor said it saw a sequential growth in profits. The growth was driven by higher sales and lower costs. Net sales for 2Q14 were $214.9 million—up 4.3% from 1Q14 as a result of higher volume, improved selling prices, and better product mix.
However, compared to the prior year, sales were down 11.9% primarily due to semiconductor wafer price and volume decreases. The decreases were the result of competitive pressures arising from softness in the semiconductor industry.
Average selling price decreases occurred primarily in 200mm and 300mm semiconductor wafers. Gross profit was $20.4 million—or 9.5% of net sales. It was down from $31.4 million—or 12.9% of net sales—for 2Q13. Operating profit was $1.3 million, compared to an operating loss of $4.2 million for 2Q13.
Gartner bullish on wafer demand
According to a July update from Gartner, a strong recovery of semiconductor production demand created wafer-purchasing momentum in the first half of the year. Therefore, wafer unit demand in 2014 will achieve growth of 10.5% compared to 2013. Gartner said the merchant semiconductor silicon wafer market in 2012 was ~$9 billion worldwide. It's expected to grow at a 5.1% compound annual growth rate (or CAGR) from 2012–2017. It will reach ~$12 billion by 2017.