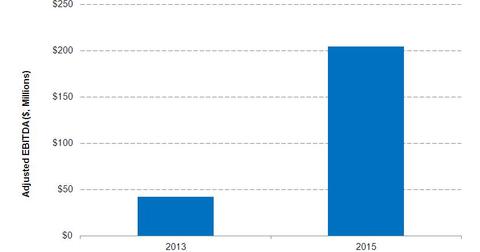 Why is Shell expecting to increase revenue and earnings by 2015?
By Alex Chamberlin

Updated
Increasing revenue and earnings by 2015
The pro forma statement below reflects Shell Midstream's consolidated reporting of 100% of the revenue, expenses, and other financial results of Zydeco (Ho-Ho), Shell Midstream's 28.6% ownership interest in Mars, and 49% ownership interest in Bengal for 2015 forecast accounting.
Zydeco's projected operating performance
For the twelve month period ending June 30, 2015, Shell Midstream expects to increase revenues by 172% to $249 million and net income by 165% to $192.5 million from the twelve months ending December, 2013. The majority of the increase will come from significant improvement in the Zydeco assets. Zydeco's Ho-Ho crude oil pipeline system completed flow reversal in December, 2013, and a completion of its on-going expansion projects will lead to higher throughput volumes. By 2015, the asset will have 75% of its volume under Federal Energy Regulatory Commission (or FERC) fee-based long-term contracts, which the company expects to increase periodically. Higher volume coupled with higher tariff will increase revenues substantially from Zydeco assets.
Article continues below advertisement
Operations and maintenance (or O&M) expense of Zydeco is expected to decrease by 7.2% while general and administrative expenses are expected to increase by ~15% in 2015 from the 2013 level. O&M expense would decrease on account of increased efficiency from the improvement and upgradation of the Ho-Ho pipeline and an exclusion of the pipeline breach on the West Columbia pipeline segment from the forecast period. The increase in general and administrative expense would be on account of an $8.5 million annual fee that Shell Midstream will pay to SPLC for general partnership fees.
Mars' projected operating performance
Revenues from the Mars crude oil pipeline operation is expected to improve by 18% from 2013 to 2015 level. This increase in revenue is primarily attributable to the Olympus line, which charges a higher average rate. However, the company projects throughput volume of crude oil to lower from Mars' assets in 2015 an anticipated 15 days of downtime for possible hurricanes during the forecast period. It also took into account a possible closure of platform and pipeline for maintenance purposes in 2015.
Bengal Pipeline's projected operating performance
Article continues below advertisement
Revenues from the Bengal refined pipeline operation is expected to decrease by 6% from 2013 to 2015 level. This decrease in revenue is primarily attributable to an anticipated reduction in demand volume. The company expects to see a decline of 8% in volume throughput. The company also forecasts a 77% under contract in 2015, while tariff is expected to increase by ~4%.
Shell Midstream is set to benefit from the improved operating performance of its segments, particularly from the volume growth and tariff hike in the Zydeco assets and the pipeline expansion projects in Mars segment. Adjusted earnings before interest, taxes, depreciation, and amortization (or EBITDA) of Shell Midstream is expected to increase manifold, from $42 million in 2013 to $205 million in 2015.
Following the completion of the initial public offering (or IPO) process, Shell Midstream Partners is expected to operate as a master limited partnership (or MLP) in the midstream oil and gas pipeline industry. Royal Dutch Shell (RDS-A), through its subsidiary Shell Pipeline Company L.P. (SPLC) will be the general partner of the company. Other midstream operators in the crude oil and refined products pipeline business include Sunoco Logistics Partners (SXL), Enterprise Products Partners (EPD), and Plains All American Pipeline (PAA). These are components of the Alerian MLP ETF (AMLP). RDS-A is a component of the Vanguard FTSE Developed Markets ETF (VEA).