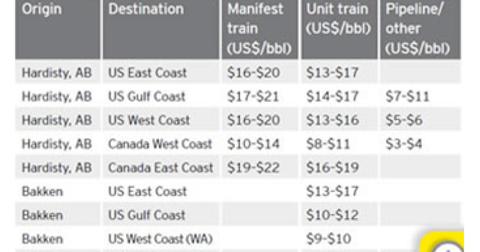 Why rail is a more cost-effective transporation option
By Keisha Bandz

Jul. 1 2014, Published 3:31 p.m. ET
Rail versus pipelines: Non-price comparison
The construction of rail typically takes a shorter amount of time compared to the construction of pipelines. The primary infrastructure needed is rail terminals. Once the terminals are constructed, they have access to scalable rail operations such as locomotives and rail cars. They can be put into place in no time and can also handle a fast expansion rate. Terminals in the Bakken can load nearly 140,000 barrels per day.
Additionally, rail carriers typically have shorter transit times between point-of-origin and final destination, which isn't the case with pipelines. Rail shipments take an estimated eight to ten days from Alberta to the U.S. Gulf Coast compared with 40–50 days by pipeline.
Rail versus pipelines: Price comparison
Article continues below advertisement
From the chart below, we can see that railroad transport costs are in the neighborhood of $10–$20 per barrel compared to $5–$11 per barrel for pipeline, for crude transportation from the Bakken to the East Coast, Gulf Coast, and the West Coast. In return, railroads offer oil producers certain advantages. The major cost advantage that rail has over pipeline is that rail moves both directions and can carry products back to the point-of origin. The products that are carried back usually are diluents that are used in pipelines. Hauling diluent from the destination back to the point of origin reduces per unit delivery costs of rail.
Additionally, rail operators are more willing to enter into shorter-term contracts with shippers than pipelines (one to two years versus ten to 15 years), offering more flexibility in a rapidly changing oil market.
Major upstream producers that transport the bulk of their Bakken crude on the rail include Oasis Petroleum (OAS), Statoil (STO), Whiting Petroleum (WLL), and Continental Resources (CLR). It's important to note that most of these companies are a part of the SPDR S&P Oil & Gas Exploration & Production ETF (XOP).
The following section in this series will discuss a major producer in the Bakken area that relies heavily on crude-by-rail.