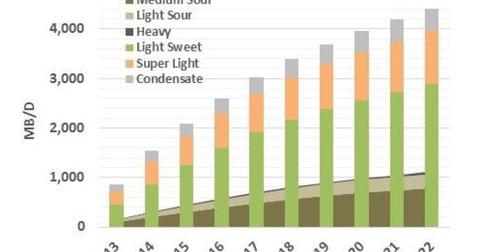 Why producers have lobbied to export US crude oil
By Keisha Bandz

Updated
The case for lifting the export ban
The major reason cited for lifting the ban is that the crude being produced in the U.S., also called tight or light sweet oil—recovered by hydraulic fracturing and horizontal drilling—is considered to be a poor match for refineries in the U.S. and the infrastructure they have in place. Producers think that allowing oil exports will help solve this mismatch because oil production is going to keep surging and if not curbed, the supply gut could depress prices further.
Crisis and disruptions of oil supply in the Middle East are additional reasons that demonstrate the importance of relying on U.S. oil production rather than other countries.
Because of the oversupply of domestic crude, oil prices have remained depressed compared to international prices. These artificially low prices provide fewer incentives for producers to drill for more oil.
As a result, producers have lobbied that lifting of the export ban will help solve these problems.
Loosening the export ban
On June 25, the Obama administration, gave Enterprise Products Partners (EPD) and Pioneer Natural Resource (PXD), permission to export an ultra-light oil also called as "condensate." Currently, the U.S. produces up to one million barrels per day of condensate.
Article continues below advertisement
The fact that this can now be exported comes as a positive for oil producers such as Pioneer Resources (PXD), Marathon (MRO), Murphy Oil (or MUR), and Devon Energy (DVN) who are some of the biggest condensate producers in the U.S. Most of the companies are a part of the Energy Select Sector SPDR (XLE).
According to the new ruling, condensate—which is largely considered to be a major feedstock for petrochemical plants—can be exported after some basic refining. The amount exported and where it goes will depend on the kind of condensate that is produced and whether it's the right grade to feed petrochemical plants.
Despite stiff opposition, allowing condensate to be exported is a win for oil producers. It will provide the first outlet for the vast amounts of oil being produced in the U.S. It also provides an indication that the U.S. government is open to allowing exports of other types of crude as well. This would impact the global energy markets significantly.
In the following sections of this series, we'll discuss the condensate rich Eagle Ford play which is the direct beneficiary of the new law.