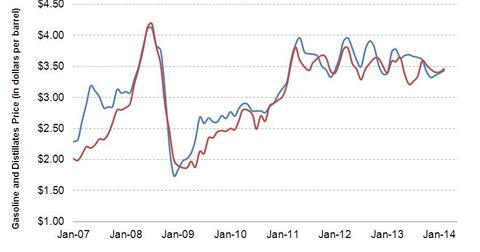 Why loosening the crude export ban will impact oil producers
By Keisha Bandz

Jul. 8 2014, Published 12:00 p.m. ET
U.S. crude oil and refineries—a mismatch
Restrictions on crude oil exports had been undermining the potential of the U.S. oil economy. Much of the oil produced in the U.S. comes from areas where refiners are unable to process it. In the past few decades, refineries have spent more than $100 billion to reconfigure their equipment to process heavy, lower-quality imported oil from various parts of the world. The reconfiguration was based on the assumption that their crude oil supplies would be getting increasingly heavy and sour.
Article continues below advertisement
These refineries aren't equipped to handle light oil that the U.S. started producing after the shale revolution. Even if the refineries do handle light oil, they would make less profit. They would loose output capacity and revenues. As a result, to make up for the lost revenues, refineries will only buy the light oil at a discount, which could run as high as 20%. At that price, oil producers can't cover the cost of some of the new wells, and cash flows would decline. This means less drilling and lower crude production.
One solution to this problem could be building specialized refineries to handle the light oil, but that could take years. As a result, producers have lobbied to allow a simpler and more cost-effective solution. U.S. crude should be exported overseas to refineries that are less complex where they could get a higher price.
What the new law means for producers
With the allowance of light oil exports, domestic oil producers can sell at better prices and increase their revenues. This provides greater incentives for drilling and stimulates new supply. This would also encourage investment in oil and gas production in the U.S. instead of abroad.
Article continues below advertisement
This move would also lower gasoline prices. For example, U.S. gasoline prices are set by global gasoline prices, not domestic crude oil prices. The additional domestic oil production that results from allowing exports means more oil in world markets—and lower prices. That means lower global gasoline prices. Since the U.S. gasoline market is part of that global market, the gas prices will be lower for American motorists.
Oil producers stand to be the major beneficiaries of the new rule. Following the announcement, the shares of several of these companies jumped higher, which showed positive market sentiment.
Following the announcement, shares of Pioneer Natural Resources jumped (PXD) 4.3%. Devon Energy (DVN) climbed by 2.2%. ConocoPhillips (COP) advanced by 0.9% to $85.22 and EOG Resources (EOG) gained 2% to $115.33. It's important to note that most of the companies are a part of the Energy Select sector SPDR ETF (XLE).
Continue reading the next section in this series to learn about the first major oil producer that is likely to export condensate from the Eagle Ford.