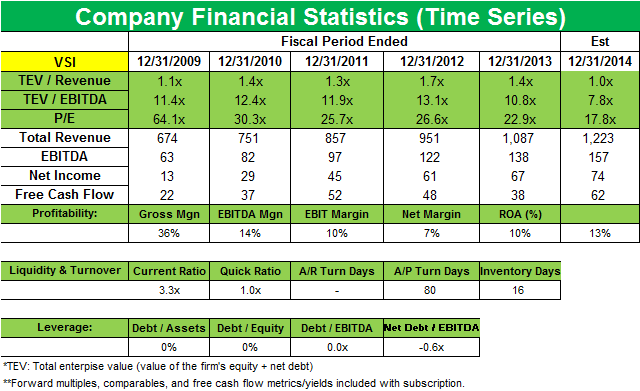 Why Davidson Kempner adds new position in Vitamin Shoppe
Davidson Kempner and Vitamin Shoppe
Davidson Kempner added new positions in Omnicom Group Inc. (OMC), Alpha Natural Resources Inc. (ANR), JPMorgan Chase (JPM), Brunswick Corporation (BC), and Vitamin Shoppe Inc. (VSI). It exited positions in Perrigo Co. Plc. (PRGO) and Apple Inc. (AAPL).
Davidson Kempner started a new position in Vitamin Shoppe Inc. (VSI) that accounted for 1.18% of the fund's 1Q portfolio.
Article continues below advertisement
Vitamin Shoppe is a multi-channel specialty retailer of vitamins, minerals, herbs, specialty supplements, sports nutrition, and other health and wellness products. It markets over 900 different nationally recognized brands as well as proprietary brands, which include Vitamin Shoppe, BodyTech, True Athlete, Mytrition, plnt, ProBioCare, and Next Step. The company sells its products through two operating segments: Retail, which includes Vitamin Shoppe, Super Supplements, and Vitapath retail store formats, and Direct, which consists of e-commerce and catalog formats. As of March 29, 2014, the company operated 667 stores in 44 states, the District of Columbia, Puerto Rico, and Ontario, Canada. Vitamin Shoppe sold its products directly to consumers through the internet and its catalog.
The company said it competes with other specialty and mass market retailers including Vitamin World, GNC (GNC), Whole Foods (WFM), Natural Grocers (NGVC), Sprouts Farmers Market (SFM), Costco (COST) and Walmart (WMT), drugstore chains including Rite-Aid and Walgreens (WAG), internet and mail order companies including Amazon.com (AMZN), Puritan's Pride, and Vitacost.com (VITC) in addition to a variety of independent health and vitamin stores and e-commerce outlets.
VMS industry poised for growth
Article continues below advertisement
Vitamin Shoppe said in its annual filing that the Vitamins, Minerals, and Supplements (VMS) industry in the U.S. is highly fragmented. Based on the most current information available from the Nutrition Business Journal (NBJ), no single industry participant accounted for more than 6% of total domestic industry sales in 2012. It added "according to the NBJ, the U.S. nutritional supplements industry was a $32.5 billion retail market in 2012, and is projected to grow at an approximate 7.1% average annual growth rate through 2020. NBJ anticipates that specialty retail will remain the major market driver for supplements through 2020, and the specialty retail channel is expected to add over $7 billion in new annual sales by that time. The internet channel is expected to post the most impressive percent growth over the next several years, and NBJ forecasts 11% compound annual growth for the internet channel from 2013–2020. Positive industry trends include an aging U.S. population, rising healthcare costs and the increased use of preventive measures. In addition, the increased focus on diet and nutrition, along with growing fitness and wellness program participation, serves as a positive trend for the nutritional supplements industry."
Vitamin Shoppe sales increase driven by e-commerce and sports nutrition
The company's net sales increased 14.4%, to $1,087.5 million for fiscal 2013 compared to $950.9 million for fiscal 2012 due to an increase in comparable store sales, non-comparable store sales (including acquired stores), as well as an increase in direct sales. Vitamin Shoppe said its sports nutrition category continued to be among the fastest growing categories. Direct sales were driven by higher e-commerce sales due to continued efficiency in customer acquisition and retention marketing programs.
Article continues below advertisement
Latest 1Q14 results beat expectations. Total net sales in the first quarter increased 10.3% to $307.8 million compared to $279.1 million in the same period last year. Reported fully-diluted earnings per share in 1Q14 were $0.67, compared with $0.68 in 1Q13. Sales growth in the quarter was driven by a 2.3% increase in comparable retail store sales, growth from non-comp stores, including Super Supplements, and a 17% increase in e-commerce sales. Total comparable sales were 3.6%, a "positive for the 34th consecutive quarter."
Vitamin Shoppe acquires FDC Vitamins
Vitamin Shoppe recently acquired FDC Vitamins LLC, doing business as Nutri-Force Nutrition, a contract manufacturer of vitamins, minerals, and supplements (VMS) from MBF Healthcare Partners L.P. The purchase price is approximately $85 million which includes a $5 million earn out based on 2014 financial performance. Vitamin Shoppe updated its outlook to reflect an earnings before interest and tax (or EBIT) margin decline between 50–100 basis points year-over-year (or YoY).
Morgan Stanley recently said it's bullish on the stock and that "Our 3% above consensus 2015 estimate of $2.90 reflects 10% sales growth and 80 bps of EBIT margin expansion and would be fueled by healthy 4%–5% comps, modest gross margin expansion, stronger sales-driven expense leverage, and the winding down of supply chain investments (worth $0.04–$0.05)."