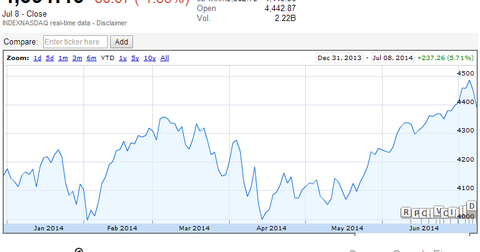 Why did tech stocks like Twitter sell off on July 8, 2014?
By Puneet Sikka

Updated
Why did the U.S. broad market index fall?
Yesterday, the Dow Jones Industrial Average Index (DJI) declined 0.7%. The main reason for the broad market sell-off was the latest concerns about global economic growth. According to a report from the Office of National Statistics of the UK, the UK's manufacturing output fell 1.3%. This was surprising, considering economists expected an increase of 0.4%. Then, earlier this week, the Federal Statistics Office of Germany announced that its exports declined by 1.1% in May. This decline was greater than expected. Plus, the recent conflict in Iraq poses an even greater risk to markets due to rising energy prices.
But the most surprising news was the tech sector sell-off.
Tech stocks fell even faster
Although the Dow Jones Index fell 0.7%, the tech-heavy NASDAQ (IXIC) index fell 1.4%. This was the second big tech stock sell-off in 2014.
The first big drop happened on April 10. The NASDAQ fell more than 3%. This was the biggest fall in the last two years.
But despite its steeper declines, the NASDAQ index has risen 6% this year. You can see this trend in chart above.
Why did the NASDAQ decline more steeply?
Overall, the tech sector is a high-beta sector. The NASDAQ index had a decent run-up in the last three months, with the index increasing from 4,000 levels on April 11 to 4,486 on July 3.
Earnings season is around the corner. You probably want to gauge tech companies' earnings before you take up new positions.
Article continues below advertisement
This feeling didn't go over well when Samsung (SSNLF) reported on Tuesday, July 8, that its second-quarter operating profit will likely see a year-over-year decline of 22.3% to 26.5%. Samsung is the largest player in the smartphone market. This will be the third straight quarterly decline in the company's operating profits. This certainly doesn't bode well for the whole mobile device industry.
Internet stocks had an even steeper fall
The fall in Internet stocks like Twitter (TWTR) and Facebook (FB) was even higher than the overall index. Twitter declined 7%. Facebook declined around 4%. Even LinkedIn (LNKD) saw a big fall of more than 6%.
Why did Internet stocks fall so much? You'll find out in the next parts of this series.