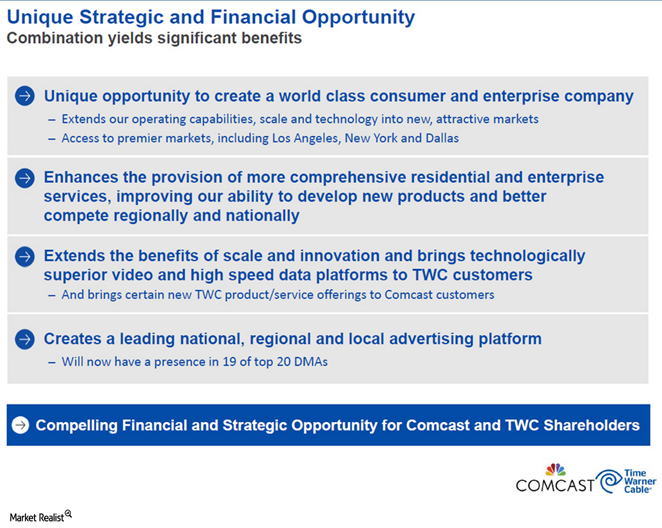 Strategic rationale for the Time Warner Cable–Comcast deal
Strategic rationale for the transaction
On February 12, 2014, Time Warner Cable (TWC) and Comcast (CMCSA) agreed to merge. The two companies provide cable TV and broadband access separate geographic areas.
In other words, this isn't really a situation where a company is buying out the competition. This is a complementary deal, where companies can wring out some efficiencies. And while some worry about market power, in fact, Time Warner and Comcast don't currently compete with each other. There's no geographic overlap.
The combined company
Article continues below advertisement
The combined company will be present in 19 of the top 20 markets, will have an enterprise value of $250 billion, and will generate something like $30 billion in EBITDA. The transaction will help the combined company compete better in the enterprise side of things, as both companies are smallish players in this segment. Time Warner Cable customers will get access to superior video and high-speed data platforms. Upon closing, Comcast intends to increase its stock buyback program by $10 billion.
Comcast will extend network neutrality protection to Time Warner Cable customers as well, as Comcast is the only company legally bound by the FCC's now-vacated Open Internet Rules. The combined company intends to increase investment in R&D and infrastructure.
At the end of the day, this deal is about scale and the ability to deliver superior service at a lower cost. The companies will spin off some customers in order to stay below the now-vacated 30% subscriber cap.
Financial rationale
Time Warner Cable shareholders get an attractive premium for their stock. They'll participate in the combined company's upside as shareholders. Analysts expect the deal to be accretive to free cash flow in the first full calendar year after closing.
Other important mergers
Other important merger spreads you should consider include the Covidien (COV) and Medtronic (MDT) deal as well as the DIRECTV (DTV) and AT&T (T) deal.