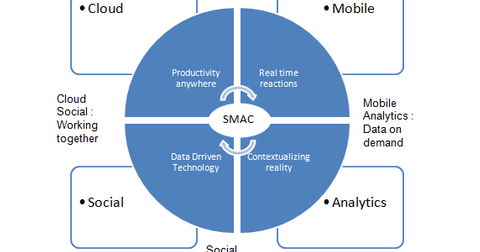 Social, mobile, analytics, and cloud is driving "big data" growth
By Anne Shields

Updated
What is SMAC?
"SMAC" refers to social, mobile, analytics, and cloud. According to KPMG, SMAC forms approximately ~80% of the total information and communication technology (or ICT) spend. According to Gartner, SMAC in totality is expected to drive more than 26% of the total enterprise software market revenue.
The previous chart shows how the combination of mobility and analytics leads to data that can be produced on demand, which is a key requirement to accelerate and transform businesses. When "Cloud" enters this confluence, real time reactions are what you get, that makes all data to be processed in all possible ways and transferred to key users. "Big data" transforms all this data to understand and transform the customer experience and engagement, and to facilitate better business decisions. Through "big data," analytics, applications, and mobility are all together. Enterprises can create "big data" applications that can effectively support real-time reactions and improve their competitiveness.
SMAC distribution
Article continues below advertisement
Social media represent the multi-directional flow of data that has to be important, secure, scalable, crucial, and able to be stored. Mobile devices are the platforms where more than 40% of social media updates are happening. This explains why leading social media players like Facebook (FB), Google+ (GOOG), Twitter (TWTR) and Linkedin (LNKD) have developed applications for Android and iOS. Users have started to move from Yahoo (YHOO) and Gmail services to Facebook, hangouts, and whatsapp showing social media and mobile applications interdependence. Cloud lets the data—photos, videos—be accessed across multiple devices from anywhere at anytime provided there's an internet connection. All this data generated is huge. It's fast moving, complex, valuable, and plentiful. It can be made useful through "big data" or NoSQL databases. Going forward, SMAC is expected to be the foundation of enterprise applications. As a result, it would impact all applications used by organizations. It seems highly unlikely to think of an enterprise resource planning (or ERP) product with no cloud presence or mobile capabilities as in current scenario, each organization is making mobile compatible applications.
Growth in Cloud infrastructure expected to push "big data"
According to the International Data Corporation (or IDC), "cloud infrastructure" is expected to be the fastest-growing sub-segment of the "big data" market, with a potential to grow annually at a rate of 50% during 2013–2017.
Benefiting industries
Owing to the enormous digital data flow, there's hardly any field that isn't likely to be benefited by huge investments in "big data." However, "big data" is definitely expected to lay the foundation for advancements in health care, medicine, data analysis, scientific research, education, energy, transportation, financial services, retail, and the telecommunications industry.