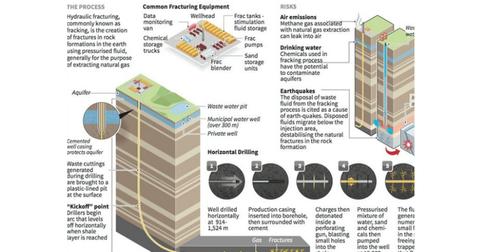 Why scientists have started connecting earthquakes to fracking
By Keisha Bandz

Jul. 21 2014, Published 7:29 p.m. ET
Seismic activity connected to fracking
A few studies and other empirical evidence have tied seismic activity to fracking over the past few years.
Hydraulic fracturing, or "fracking," is a technique applied to wells in order to extract shale gas, tight gas, and tight oil. The procedure injects water, sand, and chemicals under high pressure into a well, cracking the rock to release natural gas and oil.
As you can see in the chart above, the process of hydraulic fracturing begins once an oil or gas well is horizontally drilled. Next, a pressurized mixture of water, sand, and chemicals is pumped into the well. This "fractures" the shale and frees the trapped oil and gas, bringing it to the surface.
The process generates huge amounts of wastewater. The wastewater comes back to the surface and is disposed of by injecting it into disposal wells deep under ground. As the water accumulates, the pressure builds and starts to spread away from the wells.
Increased seismic activity
The U.S. Geological Survey (or USGS) analyzed earthquake data since 1970. It found that injecting wastewater in disposable wells in places like Texas, Ohio, and Oklahoma coincided with increased seismic activity.
According to USGS, South Texas experienced a magnitude-4.8 earthquake in October 2011 near the Eagle Ford Shale Play. There have also been many other earthquakes linked to injection wells in the Dallas–Fort Worth area since 2008. The most recent quake was 3.0 magnitude in January this year.
Oil exploration companies in Texas include ConocoPhillips (COP) and ExxonMobil (XOM).
The quakes aren't limited to Texas. Ohio experienced a magnitude-4.0 earthquake earlier in April this year. Ohio is home to major oil and gas companies like Marathon Oil Corp. (MRO) and Williams Companies Inc. (WMB). Ohio stores much of Pennsylvania's fracking waste in its disposable wells.
COP, XOM, MRO, and WMB are all a part of the Energy Select Sector SPDR Fund (XLE).
Plus, the U.S. Geological Survey recorded eight small earthquakes shaking central Oklahoma in a span of about 30 hours earlier this month. Again, experts have tied these earthquakes to the underground disposal of vast quantities of wastewater generated by oil and gas extraction.
It's important to note that these are just early studies. Scientists continue to study this phenomenon in greater detail. Also, the earthquakes haven't caused any reported significant damage. Generally, an earthquake has to be magnitude 4.0 or higher to cause damage.
But with the rise of fracking, there's a need for more disposal wells. These areas are likely to remain under scrutiny in order to study seismic activity.
Key risks
The following parts of this series discuss other risks that environmentalists associate with fracking.
Article continues below advertisement