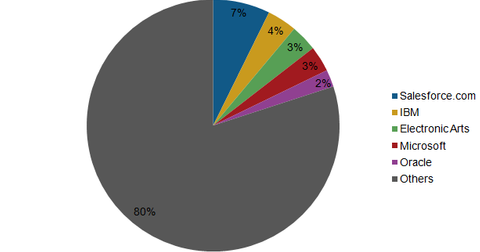 Why "SaaS" is an integral component of cloud computing?
By Anne Shields

Updated
What is SaaS?
Software as a Service (or SaaS) is a cloud service model that usually is layered on top of PaaS and IaaS. In SaaS, complete functional applications are provided along with the required software, operating system, hardware, and a network over the internet. The customer agrees to use the software on an ongoing basis through a service-based model. As a result, it's referred to as "software as a service." According to IDC, SaaS accounts for 82% of the total cloud services market. It's expected to grow at a five year compound annual growth rate of 27% until 2018.
The previous chart shows the steady growth expected in the future for the Saas market. SaaS revenue is expected to reach $32.8 billion by 2016.
Why SaaS is preferred
Article continues below advertisement
Organizations prefer SaaS primarily because it's flexible and cost efficient. Since the software is hosted remotely, additional investment in hardware isn't required. Also, instead of paying for licensed applications, organizations pay a monthly fee. Also, they don't have to incur installation, set-up, and maintenance costs. SaaS provides organizations with access to applications without the hassle and expense of developing, implementing, or supporting it. Organizations just need to connect to the application through a Web browser and use it. Salesforce.com (CRM) Sales Force Automation applications and Google (or GOOG) applications are some of the popular SaaS software.
A one end solution
All infrastructure and IT operations functions are taken care by the provider when using SaaS. By providing standardized capabilities for a usage based cost, SaaS provides significant cost efficiency. It represents a shift of operational risk from the client to the provider. Non-core applications—undifferentiated applications like email, payroll expenses, customer relationship management, human resources applications, and financial and accounting applications—are considered for SaaS hosting by organizations.
Customer relationship management to lead SaaS growth
In 2013, 41% of CRM Systems were SaaS-based with Salesforce.com dominating the SaaS market largely followed by ADP (ADP) and Intuit (INTU). Oracle (ORCL) and Microsoft (MSFT) held the fourth and fifth position, respectively. According to Gartner, by 2015, 50% of the CRM systems will be deployed by SaaS. It's expected to be the largest global market in the SaaS market. Enterprise resource management (or ERM), and security and storage software to a lesser extent, contributed towards SaaS market growth. Office suites followed by digital content creation are expected to grow at 49% and 34%, making them highest growth segments in SaaS. Global spending on SaaS is expected to reach $32.8 billion in 2016.