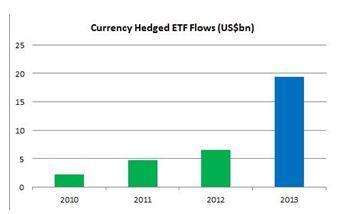 Must-know: Points to remember about currency hedging
By BlackRock

Nov. 25 2019, Updated 12:21 a.m. ET
Investors seeking pure exposure to underlying international markets can help to neutralize currency risk with a currency hedged investment or ETF. Here are three things to keep in mind:
 The effects of currency fluctuations are more relevant today than ever before. Investors are beginning to allocate a greater proportion of their overall portfolios to international developed and emerging markets to avoid home country bias, or over-investing in one's own country. As Russ Koesterich points out in a recent post, investors often exaggerate the benefit of physical proximity and thus have overly-concentrated portfolios.  Awareness of this bias has increased recently and combined with attractive fundamentals in markets outside the US- a reallocation outside the US is clearly underway.
 Currency hedged investments historically have exhibited less volatility than unhedged. What's more, hedged products are now large, liquid and accessible to the average investor, offering international exposures while reducing the risk of currency fluctuations. Three new solutions include the iShares Currency Hedged MSCI Japan ETF (HEWJ), the iShares Currency Hedged MSCI EAFE ETF (HEFA), and the iShares Currency Hedged MSCI Germany ETF (HEWG).
Market Realist – The three new ETFs are simply currency hedged versions of other popular iShares ETFs which track Japan (EWJ), Germany (EWG), and international markets excluding the US (EFA):
Article continues below advertisement
The iShares Currency Hedged MSCI Germany ETF (HEWG) seeks to track the investment results of an index composed of large- and mid-capitalization German equities and extenuate exposure to fluctuations between the value of the euro and the U.S. dollar.
The iShares Currency Hedged MSCI Japan ETF (HEWJ) does the same for Japanese equities.
3.   Investors are beginning to take note of the value of currency hedged ETFs. In fact, currency hedged ETF flows hit a record $19.35 billion in 2013.
Most U.S. investors remain underexposed to international equities, yet most strategists agree that bigger opportunities exist outside U.S. borders. A couple of years ago, investors didn't have the option of a hedged investment in ETFs. Today, they have more control to ensure that the product you select more accurately reflects your viewpoint. When investing in non-U.S. equities, consider both equity and currency return, and where currency hedging may suit you the best.