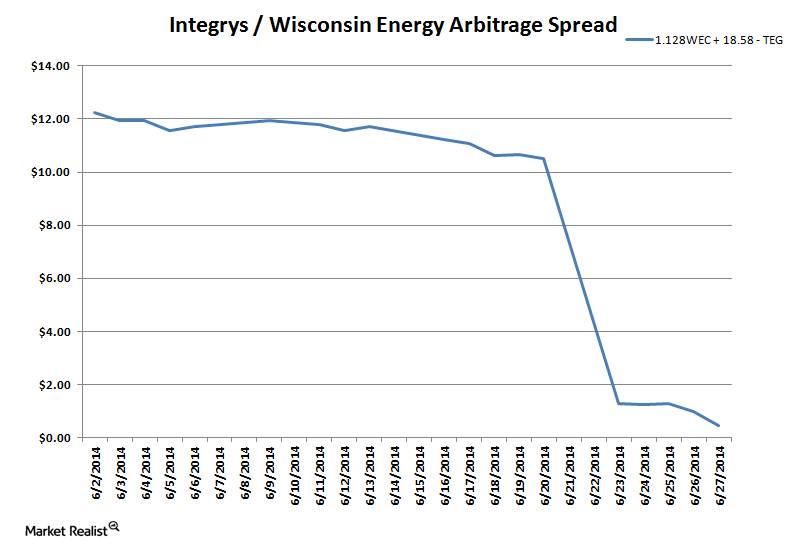 Why consider possible Integrys–Wisconsin Energy merger scenarios?
By Brent Nyitray, CFA, MBA

Jul. 7 2014, Updated 9:00 a.m. ET
Scenario analysis is a key part of merger arbitrage
So, we know that the annualized spread in the Integrys–Wisconsin Energy deal is just under 2%, provided everything happens according to plan. In the risk arbitrage world, a 2% spread means a deal without much "hair" on it. The market is assigning a high probability of closing. But your base case assumption has to be that the deal closes as advertised and that you earn the spread. After all, a merger agreement is a contract. Both companies have a financial incentive to close the deal.
What's your downside if the deal breaks?
Article continues below advertisement
Pre-deal, Integrys was trading at $61 a share. Depending on the reason for the deal breaking, the stock will probably end up there. However, that will depend on the reason for the deal breaking. If it broke because of bad news out of Integrys—for example, an environmental accident—then the pre-deal downside is probably a best-case scenario. On the other hand, if it broke due to intransigent regulators, then the pre-deal price is probably the right bet.
Wisconsin Energy is basically unchanged from its pre-deal price. If the deal breaks for regulatory reasons, you probably won't get hurt too much on your short side. Look at the graph above and imagine you're short the spread. If the deal closes, the spread goes to zero and you make your 50 cents. However, if the deal breaks, you end having to cover at $10.50. So the risk-to-reward ratio is $10:50 down to $0.50 up, or 21:1.
But this isn't the only possible outcome for the transaction. Here are some other outcomes.
Integrys gets another buyer
Article continues below advertisement
This is the best-case scenario—another buyer decides it wants to purchase Integrys and we get a bidding war. In that case, Integrys will trade much higher and will trade through the terms of the new transaction. These situations make an arb desk's year. That said, this is a highly, highly unlikely scenario. Hostile deals just don't happen that much in the regulated utility space. But you can't rule it out.
Wisconsin Energy gets a buyer
As good as the competitive bidding scenario is for Integrys, this is your nightmare. You come in one fine morning and see Integrys is down 10% and Wisconsin Energy is up 30% as another buyer comes in for Wisconsin Energy and conditions the deal on breaking the Integrys transaction. The arbs will be bleeding on both the long and the short. Again, this sort of thing pretty much never happens in utility deals, but arbs should always be cognizant of this risk.
Other important mergers
Other important merger spreads you should consider include the Covidien (COV) and Medtronic (MDT) deal as well as the DIRECTV (DTV) and AT&T (T) deal.