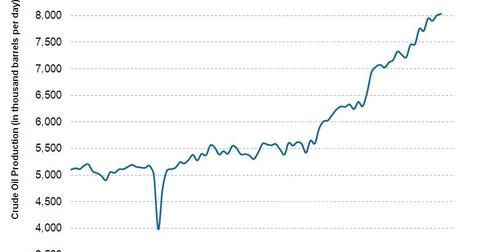 Overview: Key factors that led to the export ban of US crude oil
By Keisha Bandz

Updated
A brief background about the export ban
In the 1975, under the Energy Policy and Conservation Act, Congress made it illegal to export crude oil that was domestically produced, in the absence of a license.
Two reasons are usually cited for the export ban. First, in the 1970s, several price controls were slapped on crude and refined products. This was done so as to avoid inflation. The export ban was further proof of the governments' fear of inflation. Second, Alaska's North Slope was a newly-found oil discovery, and to prevent it from being sent to the higher-priced Japanese markets, instead of the U.S. West Coast, the export ban was a suitable choice. Therefore, the ban was put in place to conserve domestic oil reserves and discourage foreign imports.
Article continues below advertisement
However, in the early 1980s, oil price controls were abolished and so was the ban on exporting gasoline and other refined products. The ban on exporting crude oil though, remained. To export oil, producers needed export licenses from the Commerce Department, but these have been sparse over the past years. Exports of crude oil peaked at 104 million barrels of oil in 1980, but have since fallen to 43.8 million barrels in 2013.
Until 2005, when domestic oil production was declining and the U.S. was in fact importing almost 60% of its total consumption, there was no reason to re-examine the export ban. However, since 2008, oil production has significantly surged.
The U.S. Energy Information Administration (or EIA) forecasts that 2014 crude production will be 8.42 million barrels per day. This significant surge in oil production has initiated several discussions regarding the lifting of the export ban as oil producers are of the opinion that they will benefit from exporting oil to countries where they might receive better prices for their production.
Oil-weighted names such as Continental Resources (CLR), EOG Resources (EOG), Oasis Petroleum (OAS), and Pioneer Natural Resources (PXD) are few companies who would with benefit from the loosening of the export ban. It's important to note that most of these companies are a part of the Energy Select Sector SPDR ETF (XLE).
In this series, we'll discuss the factors that have led to the loosening of the export ban and the effects that it will have in the oil  industry.