Overview: Is investor fatigue setting in?
By Russ Koesterich, CFA

Jul. 31 2014, Published 10:16 a.m. ET
Despite a generally positive tone to earnings season, investors may be finally showing signs of fatigue, as seen by aggressive selling of risky assets, namely high yield and U.S. equities. Russ K explains the implications.
We're in the midst of earnings season, and thus far the news is largely positive. Roughly 80% of companies that report earnings beat analysts' profit estimates, while 69% exceeded sales projections.
Article continues below advertisement
Market Realist – The earnings of U.S. companies have outperformed analyst estimates this year for ~80% of the companies reporting earnings this season. According to estimates by Bloomberg, profits increased 8.2% in the second quarter and sales increased by 3.5%. The following graph shows the 2Q14 Earnings Scorecard broken down by sector and classified into above, below, and in line with estimates. As the graph demonstrates, 76% of the S&P 500 companies have reported earnings above estimates.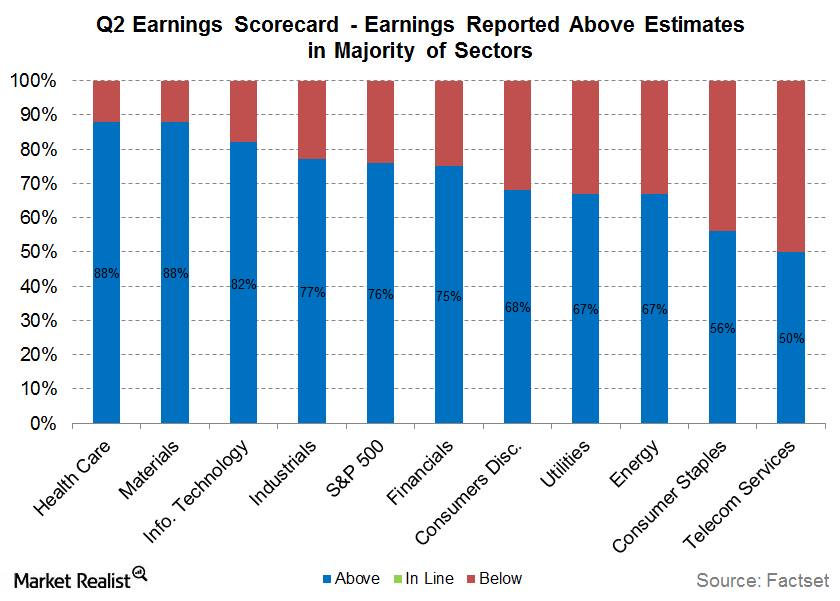 The graph below shows the 2Q14 Revenue Scorecard by sector classified into above, below, and in line with estimates. Some of the biggest positive earnings surprises were on account of Merck (MRK), Facebook (FB), Apple (AAPL), Twitter (TWTR), Starbucks (SBUX) and American Express (or AXP).
Some highlights from recent earnings reports include:
American Express (or AXP) reported a 13% increase in its second quarter earnings from a year ago and an increase in revenue from $8.2 billion to $8.7 billion in the period.
Twitter (TWTR) also reported a surprise profit of $0.02 per share on an adjusted basis and a massive increase in revenues from $139.3 million to $312.2 million. In response to the news, Twitter (TWTR) stocks rallied ~33% after hours.
Merck (MRK) reported a second quarter profit of $0.68 per share which was a huge jump from its reported earnings of $0.30 per share in the same period a year ago.
Starbucks Corp. (SBUX) reported an increase in its fiscal third quarter profits from $0.55 per share a year ago to $0.67 per share and an 11% increase in revenues for the three months ending June 29.
Facebook (FB) reported a steep increase in revenue to $2.91 billion—an increase of 61% from the same time last year.
Apple Inc. (AAPL) posted a 12% increase in its quarterly profits to $7.75 billion.
Read on to the next part of the series to learn whether or not robust earnings have bolstered the markets.