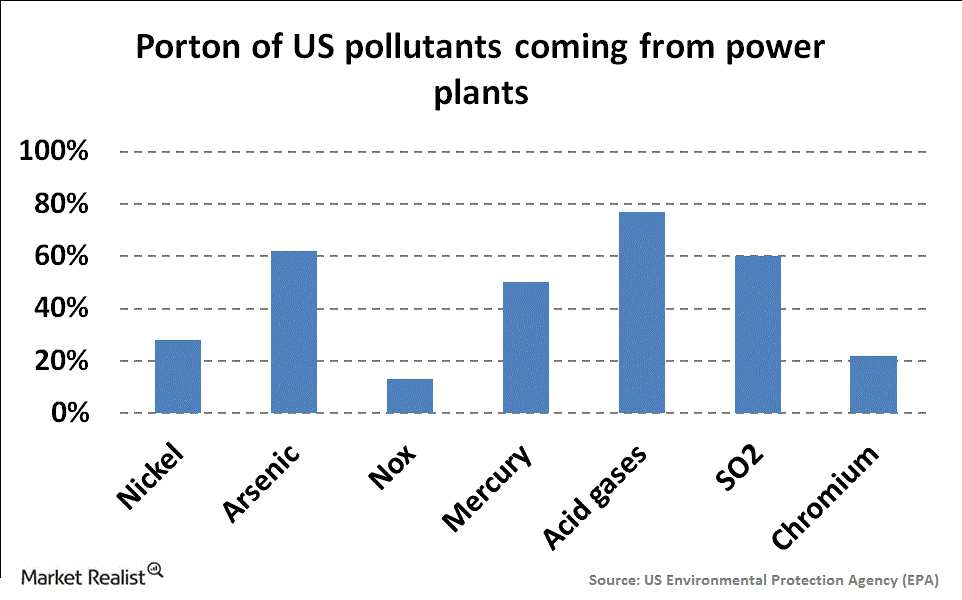 Overview: Environmental and regulatory issues for coal companies
By Mike Sonnenberg

Jul. 10 2014, Updated 1:00 p.m. ET
Environmental and regulatory issues
While it's the cheapest source of energy, coal is also the most polluting fossil fuel. Power plants emit harmful pollutants such as mercury, arsenic, nickel, and sulfur dioxide in the air. While coal accounted for 19% of overall U.S. energy consumption in 2013, it resulted in 32% carbon dioxide emission in the same year, according to the U.S. Energy Information Administration (or EIA) report.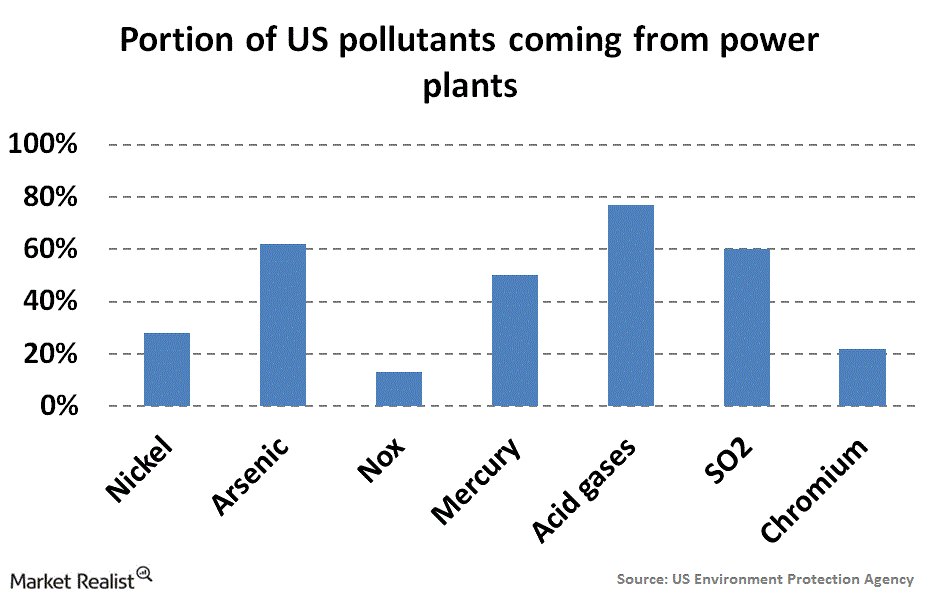 Article continues below advertisement
With the goal of a cleaner environment in mind, the U.S. Environmental Protection Agency (or EPA) has issued carbon dioxide emission standards and mercury and air toxic standards. The first standard requires new coal-fired power plants to limit carbon dioxide emission to 1,100 pounds of carbon dioxide (or CO2) per megawatt hour. This means that new plants will have to reduce uncontrolled carbon dioxide emission by 50% compared to existing plants by employing a mechanism called CCS (or carbon, capture, sequestration). In CCS, carbon dioxide is captured, compressed, and transported underground using pipelines. The carbon dioxide is then stored in rock formations usually a mile or more beneath the earth's surface which reduces the environmental pollution.
While CCS can address the emission issue associated with coal-fired plants, its economic and technological viability is under question. The mechanism is relatively new. It was first commissioned in Germany in 2008. The added cost of implementing CCS and the projected growth in natural gas production means that fewer new coal-fired power plants will come on-line after retirement of existing ones. The retired coal plants may be replaced by gas-fired plants depending on how the price dynamics play out at that point in time. The subdued demand for coal will limit the growth in coal production as reflected in the EIA's projection of sub 10% growth in coal production from 2012 to 2040. In the same period, the natural gas production is expected to more than double. The capped demand paints a grim picture of the coal sector in the U.S.
For the existing coal-fired power plants, the EPA has proposed rules that mandate them to cut carbon dioxide emission by 30% by 2030 over 2005 levels.
This isn't good news for pure play coal producers (KOL) such as Peabody Energy (BTU), Arch Coal (ACI), and Alpha Natural Resources (ANR). The impact for coal and gas players such as Consol Energy (CNX) needs to be evaluated.
The environmental and regulatory issues aren't the only bad news for the coal sector. The sector is also marred by global issues. Continue reading the next sections in this series to learn more.