Overview: American Airlines' position in the international market
By Teresa Cederholm

Jul. 14 2014, Updated 9:00 a.m. ET
American Airlines' position in the international market
American Airlines Group (or AAG) derives 57% of its revenue from domestic operations. In the international market, out of the remaining 43%, revenue from the Latin American region constitutes 23%. American (AAL) has a relatively lower revenue base from the Pacific region, 4.9%, compared to Delta's (DAL) 10.8% and United's (UAL) 15.1%. The other low cost competitors, Southwest (LUV) and JetBlue (JBLU), are concentrated in the domestic market.
AAG's domestic revenue growth was 7.6% in 2013. In the international market, the Atlantic region recorded the highest growth of 10% followed by a 8.2% growth in the Latin American region while the Pacific region revenue decreased by 1.6%.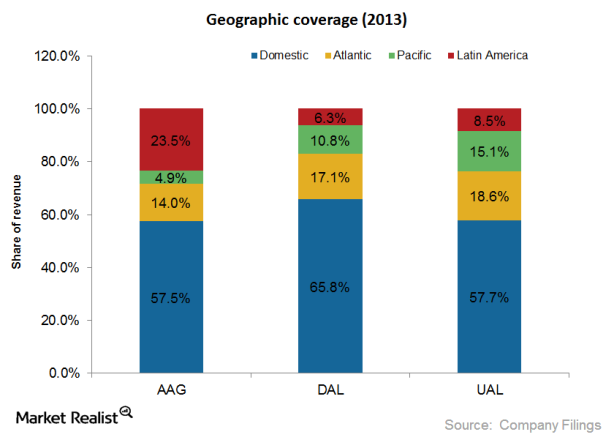 Article continues below advertisement
In the international market, among the three legacy carriers, AAG has the highest capacity in Latin America, 53%, followed by United (UAL) with a 26% share and Delta (DAL) with a 21% share in available seat miles. In the Atlantic region all three have almost equal shares. In contrast, in the Pacific region American has the lowest share.