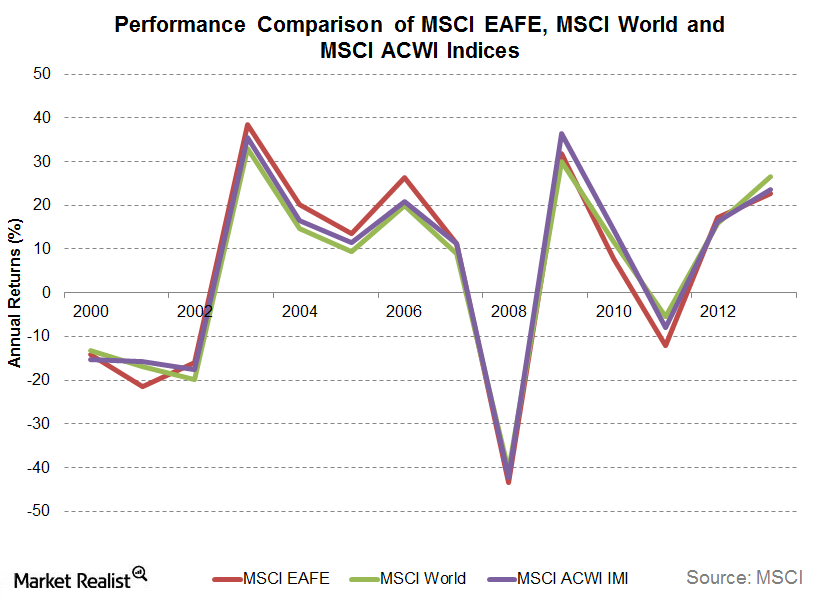 Overview: 3 things to know about currency hedging
By BlackRock

Nov. 26 2019, Updated 12:50 a.m. ET
As investors seek international equity exposure as a means of enhancing portfolio diversification to reduce risk, the Blog explains why it's important to take note of the impact of currency on total returns.
In January 2014, non-U.S. developed markets equity ETFs attracted $11.2 billion (EFA). During the same period, broad-based developed markets equity (IOO) added $3.7 billion, and Japanese equity exposures (EWJ) attracted $4 billion. We believe this trend will continue, and recently upgraded our view of Europe and Japan from neutral to overweight, as noted in BlackRock's latest Investment Directions.
Article continues below advertisement
As U.S. investors allocate more overseas for exposure to potential enhanced returns and reduced risk through diversification, many of them are unaware of how currency can impact the overall return of any international equity investment. In fact, currency can often contribute more to your return than the underlying security itself. You can think of it as simply as
Total Investor Return = Equity Return + Currency Return
Your total return depends on both equity and currency returns, which are sensitive to economic, political, and market events, and fluctuate over time. Below is an illustration of the historical effects of currency fluctuation, comparing the MSCI EAFE USD (EFA) and the MSCI EAFE Local Index. As you can see, currency values can drastically impact total return. For example, the effect of currency in 2003 added 18% to an investment in the MSCI EAFE Index for U.S. investors. This was a time when the U.S. dollar weakened relative to other currencies, in particular the euro and the yen, and an unhedged investment paid off.
Market Realist – The MSCI EAFE Index is an equity index that captures large and mid-cap representation across Developed Markets countries around the world, excluding the U.S. and Canada. With 899 constituents, the index covers ~85% of the free float-adjusted market capitalization in each country. The following graph compares the annual performance of the MSCI EAFE, MSCI World and MSCI ACWI.  The MSCI EAFE is tracked by ETFs from iShares (EFA) and Vanguard (VEA), the MSCI World (developed markets only) is tracked by the iShares MSCI World ETF (URTH) and the MSCI ACWI Index (developed and emerging markets)  is tracked by the iShares MSCI ETF (ACWI).
Another example is in 2005, where the effect of currency took 15% from an investment in the MSCI EAFE Index for U.S. investors. This was a time when the U.S. dollar strengthened relative to other currencies, and marked a year where hedged investment paid off.
Read on to understand the benefits of a hedged currency strategy.