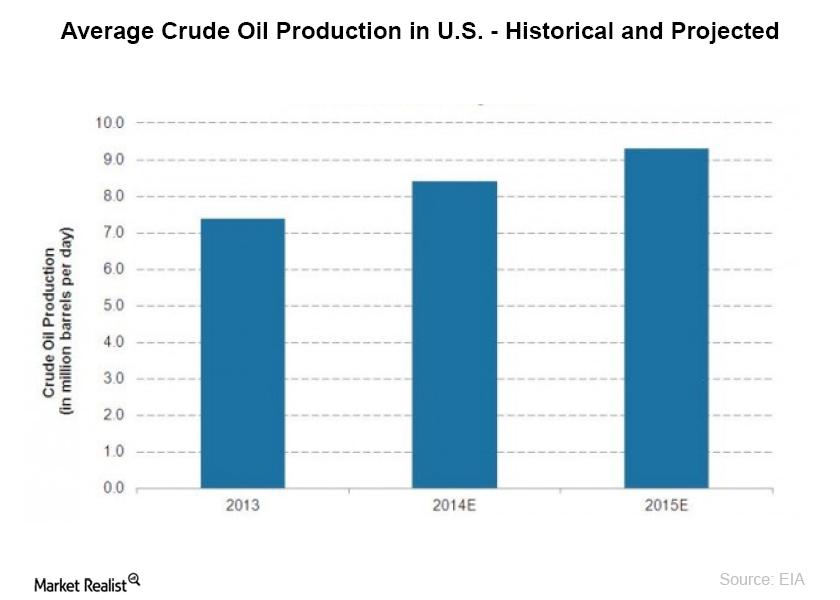 Why the oil and gas industry supports fracking despite the risks
By Keisha Bandz

Jul. 22 2014, Updated 1:01 p.m. ET
Oil and gas production continues to rise
Ever since the shale revolution in 2008, which is associated with the advancement of hydraulic fracturing, U.S oil and gas production has significantly increased. Oil and gas companies that have benefitted from the shale revolution include Chesapeake Energy (CHK), ExxonMobil (XOM), Anadarko Petroleum (APC), and Noble Energy Inc. (NBL). These companies are all part of the Energy Select Sector SPDR ETF (XLE).
The EIA's 2014 Short-Term Energy Outlook predicts that oil and gas production will continue to rise.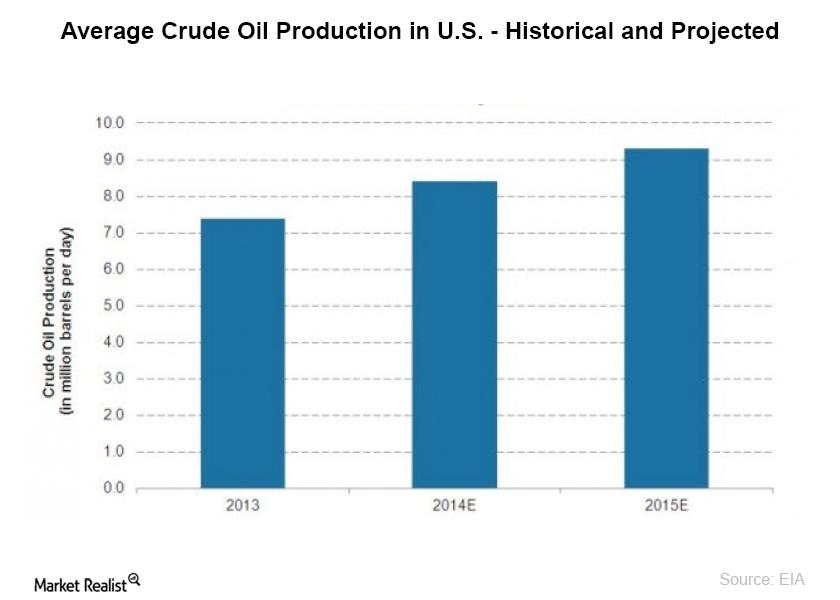 As you can see in the chart above, the EIA projects that crude oil production will average 8.4 million barrels per day (or bpd) in 2014 and 9.3 million bpd in 2015. Compared to 2013 levels of 7.4 million bpd, these would be increases of 10.7% and 25.6%, respectively.
The above chart shows the EIA's projection of natural gas production, which is estimated to increase to 73 bcf/d (billion cubic feet per day) in 2014 and 74 bcf/f in 2015, from 70.2 bcf/d in 2013.
The majority of this increase in natural gas and oil production is expected to be due to hydraulic fracturing. The U.S. Department of Energy reports that 43% of oil and 67% of natural gas production is currently the result of hydraulically fractured wells.
Arguments in favor of fracking
Article continues below advertisement
Apart from the arguments for energy independence that usually accompany fracking, one of the major arguments supporting the practice is job creation. Between 2007 and 2012, the Bureau of Labor Statistics found that the U.S. lost over 3.6 million jobs. But the oil and natural gas industry gained 135,084 jobs, and 50,000 of these positions involved drilling and oil and gas extraction.
Another argument supporting fracking is geothermal energy creation. Water pumped down to the hot rocks far below the Earth's surface turns into steam. You can use this steam to generate electricity.
Plus, the natural gas itself produced by hydraulic fracturing is a significant source of cleaner fuel for electricity generation in the U.S. See the Market Realist series Energy investment overview: Key fuels for power generation to learn more about electricity generation trends in the U.S.
Bans or restrictions
The following parts of this series discuss the negative impacts the oil and gas industry would face if fracking were banned or restricted.