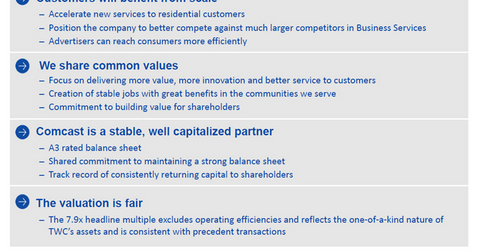 New York State negotiates the Time Warner Cable–Comcast deal
By Brent Nyitray, CFA, MBA

Jul. 14 2014, Updated 8:00 a.m. ET
The deal has to pass muster with New York State
Time Warner Cable (TWC) and Comcast (CMCSA) must get past the New York State Public Service Commission as well as other state and local authorities. While the other state and local approvals are significant, the toughest hurdle aside from the FCC will be New York State. The New York State Public Service Commission is going to be the toughest review.
The governor of New York State, Andrew Cuomo, had this to say: "The State is taking a hands-on review of this merger to ensure that New Yorkers benefit…The Public Service Commission's actions will help protect consumers by demanding company commitments to strong service quality, affordability, and availability."
Article continues below advertisement
New York State made changes to the Cable Franchise Law in April. This raised the bar in clearing these deals. Prior to the change, the New York State Public Service Commission had to wave through a deal unless it was shown not to be in the public interest. Now, the companies must prove to the state that the deal is in the public interest. How do companies prove deals are in the public interest? Rate cuts or capital expenditures.
How else will companies prove the deal to be in the public interest? One way is to demand companies improve service. The state will also look at service in "under-served" (read: low-income) areas and demand the companies do something for them—like give them free broadband access or something like that.
In other words, this is going to play out exactly like a utility deal, except the political scrutiny will be higher than a garden-variety electric company deal.
Other important mergers
Other important merger spreads you should consider include the Covidien (COV) and Medtronic (MDT) deal as well as the DIRECTV (DTV) and AT&T (T) deal.