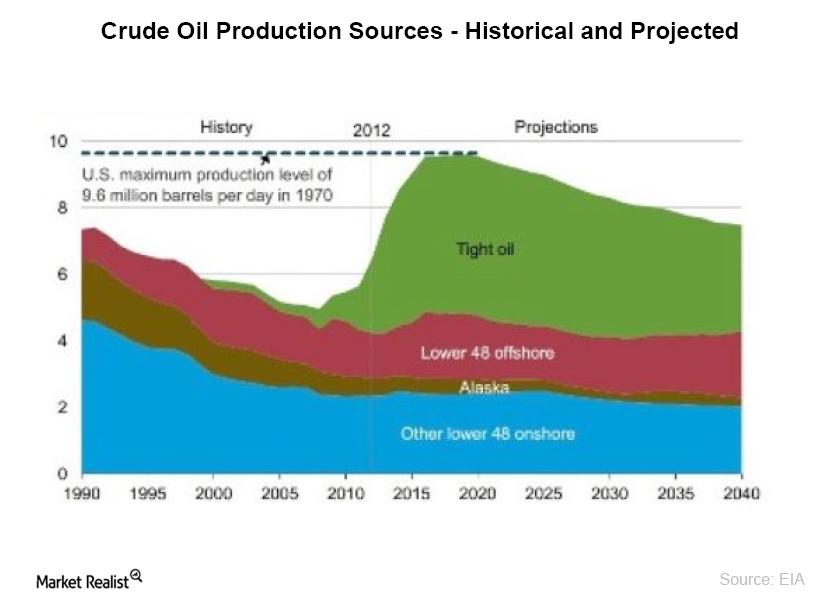 Must-know: Why upstream players like ExxonMobil rely on fracking
Upstream players rely heavily on fracking
For upstream companies, fracking has turned prospects that were previously considered non-viable into profitable opportunities. Horizontal drilling and hydraulic fracturing apply the latest technologies and make it commercially viable to recover shale gas and oil. According to the EIA's Annual Energy Outlook 2014 Early Release, shale oil (or "tight oil") and shale gas developed with hydraulic fracturing will be significant contributors to U.S. oil and gas output over the next couple of years.
The above chart shows that in the coming years, the EIA projects the majority of U.S crude oil production to come from shale formations in the form of shale oil or tight oil instead of offshore and onshore resources.
The above chart reflects a similar story for natural gas. Shale gas from shale formations is projected to be the major source of U.S. natural gas production compared to other conventional sources in the years to come.
What happens if fracking were banned or made more expensive?
Article continues below advertisement
According to the Department of Energy (DOE), as of 2013, approximately 2 million oil and gas wells in the U.S. have been hydraulically fractured. Currently, 95% of oil and gas wells in the U.S. are hydraulically fractured. Plus, hydraulically fractured wells contribute 43% of the oil and 67% of the natural gas production in the United States.
So upstream or E&P companies like ExxonMobil (XOM), Chesapeake (CHK), Anadarko Petroleum (APC), and ConocoPhillips (COP) heavily rely on this technology to produce oil and gas. Note that all these companies are components of the Energy Select Sector SPDR ETF (XLE).
If fracking were banned, restricted, or changed to become more expensive, companies would likely decrease their drilling activity. This move could cut their profits. This would negatively affect other players in the oil and gas value chain as well.
The following part of this series discusses other segments in the oil and gas industry that could be negatively affected if restrictions were placed on fracking.