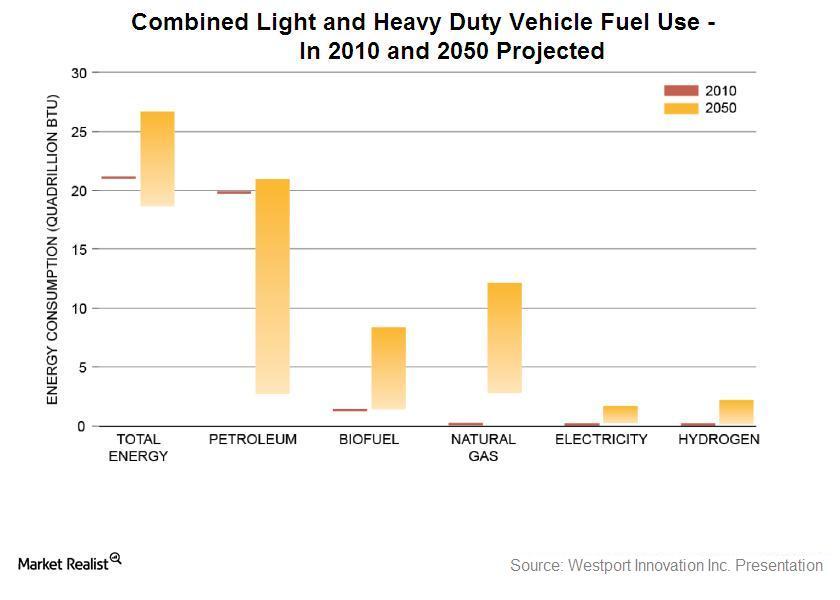 Must-know: The natural gas vehicle phenomenon
By Alex Chamberlin

Oct. 29 2019, Updated 10:54 p.m. ET
Natural gas vehicle phenomenon
On July 15, 2014, Piedmont Natural Gas Company (PNY) inaugurated a compressed natural gas (or CNG) refueling station in Nashville, Tennessee. It was the tenth CNG fueling station opened by the company to date. PNY plans to add more refueling stations and increase CNG-enabled cars in future.
On July 16, Clean Energy Fuels Corp. (CLNE) opened its first natural gas fueling station in New Hampshire. On April 30, 2014, Atmos Energy Corporation (ATO) announced that it was collaborating with ZeitEnergy to introduce the latest versions of Ford's F-150 and F- 250 natural gas powered trucks. It also opened a CNG refueling station in Arlington, Texas on the same day.
Natural gas vehicle
According to the U.S. Department of Energy's (or DOE) Office of Energy Efficiency and Renewable Energy (or EERE), there are ~112,000 cars in the U.S. that are powered by natural gas, or more specifically, CNG. Worldwide, natural gas vehicles (or NGVs) aggregate to ~14.8 million.
Article continues below advertisement
It's important to note that CNG and liquefied natural gas (or LNG) fall under the category of alternative fuels under the Energy Policy Act of 1992 (see Part 6 of this series), mainly because burning natural gas produces lower carbon emission than gasoline and diesel—the primary choice of fuels for running vehicles. CNG is mainly composed of methane.
The shale gas boom in the U.S. has flooded the American market with cheap gas. There has been so much gas that producers want to export their production for better prices.
Fuel efficiency and eco-friendliness of NGVs
According to the studies conducted by Argonne National Laboratory and California Energy Commission in 2007, the use of CNGs equal at least 90% less petroleum than in conventional use of gasoline in a vehicle over its fuel life cycle.
According to the model developed by Argonne National Laboratory, the emission of greenhouse gases (or GHGs) from natural gas is ~6%–11% lower than gasoline throughout the fuel life cycle. Improvements were made possible through government regulations on carbon emission standards and incentives to build alternative fuel infrastructure.
Given the relatively cleaner burn, federal tax advantages, and cheaper gas, NGVs could end up becoming be a big source of natural gas demand in the future. If this were to happen, companies like PNY, CLNE, and ATO could end up being ahead of the curve by setting up the infrastructure for this now.
Key exchange-traded funds (or ETFs)
Some of these companies are components of the Utilities Select Sector SPDR (XLU) and the SPDR S&P 500 (SPY).
To learn more about the changes taking place in the NGV industry in the U.S., please continue reading our next section.