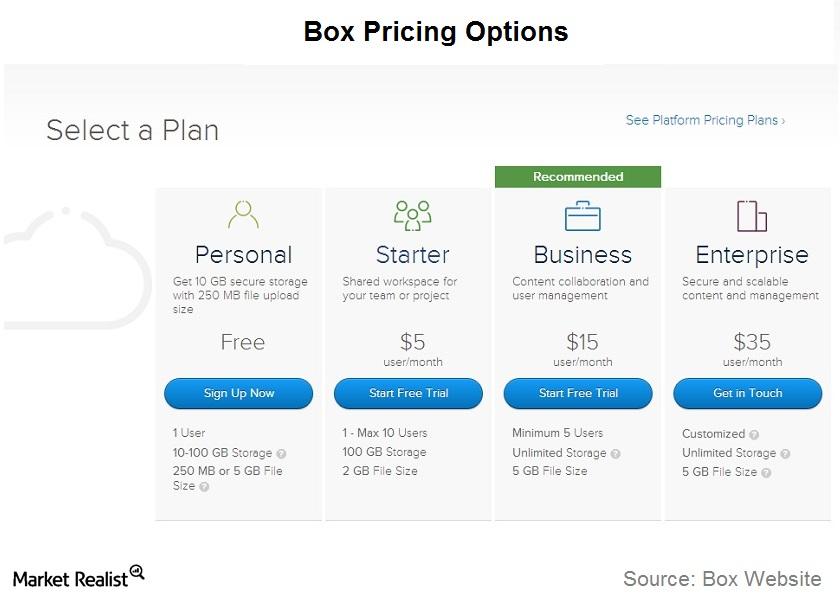 Must-know: How does Box make money?
By Ingrid Pan

Oct. 29 2019, Updated 11:50 p.m. ET
How Box makes money
Box (BOX) offers several different options that vary in pricing and features. The lowest priced option is a free version of Box, that the company provides to gain product awareness and adoption from new users. According to the S-1 filing, as of January 31, 2014, out of Box's ~25 million registered users, ~93% of were non-paying users and ~7% were paying users.
Box also offers plans ranging from $5–$35 per month with various levels of functionality, as well as an "elite" level of service that's highly customized to an enterprise's specific needs. The company states that it has over 34,000 paying organizations registered. A "paying organization" represents a distinct buying entity such as a company, educational or government institution, or a business unit of a larger corporation.
Article continues below advertisement
Aside from subscription fees for what Box calls its "Enterprise Content Collaboration" services (the ability for users to store and edit files on one platform), Box also generates revenue from customers purchasing its "premier support package" and revenue from professional consulting, project management, and implementation services. Currently, almost all revenue comes from its subscription fees and customer support fees. Subscription and support revenue is largely dictated by the number of customers, number of "seats" (unique user accounts) sold to each customer, and the price of services.
Some of Box's enterprise clients include Chevron (CVX), Ameriprise (AMP), Gap (GPS), Alliance Data Systems (ADS), and Eli Lilly (LLY), many of which are constituents of the SPDR S&P 500 ETF (SPY).