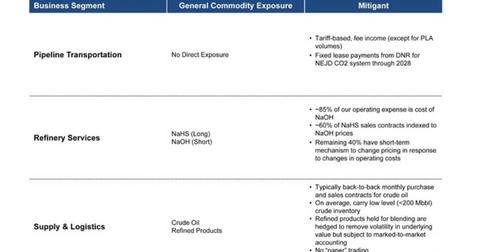 Must-Know: GEL's growth drivers
By Keisha Bandz

Jul. 4 2014, Published 4:00 p.m. ET
GEL's growth drivers
Genesis Energy's (GEL) fundamental business drivers include alternative transportation modes (crude-by-rail and barge), an extensive offshore crude oil pipeline footprint, and a midstream footprint in the Gulf of Mexico (or GOM) due to expanding GOM oil production and crude oil bottlenecks. All of these business driver lead to a diversified cash flow for GEL.
The company has a diverse operational assets and customer base that includes refinery related plants, pipelines, storage tanks, and terminals. Its customer portfolio includes the oil and gas industry, pulp and paper mills, mining operations, and other manufacturing industries.
GEL's business lines complement each other and enable them to offer an integrated suite of services to common customers across segments.
Also, GEL has a limited commodity price risk exposure. The volumes of crude oil and refined products are either subject to back-to-back sales contracts or are hedged with NYMEX derivatives to limit exposure to movements in the price of the commodity.
Article continues below advertisement
In addition, through their sodium hydrosulfide (or NaHS) sales—a by-product of the refinery services process—GEL has indirect exposure to fast-growing, developing economies outside of the U.S. GEL's service contracts with refiners allows it to adjust the processing rates to maintain a balance between NaHS supply and demand. This gives them a cost advantage over its competitors.
As previously mentioned, the company is well-diversified in its various operational segments. In the last quarterly report, the margin breakdown between pipeline, refinery, and supply and logistics was ~$27 million, ~$ 19 million, and ~$ 21 million, respectively. This presents a balanced distribution of margin. Its customers include large concerns like Denbury Resources (DNR), BHP Billiton (BHP), International Paper (or IP), and Shell Chemicals (or RDSA). GEL is a part of the Alerian MLP ETF (AMLP) and DNR is a part of the SPDR S&P Oil & Gas Exploration & Production ETF (XOP).
The company has various ongoing and recently completed developments and acquisitions in almost all of its operating sectors. These include the Hornbeck acquisition (August, 2013, offshore pipeline, $230 million), the Southeast Keathley Canyon Pipeline Company LLC (or SEKCO) joint venture with Enterprise Products (or EPD), and the Baton Rouge  Project around ExxonMobil's Baton Rogue refinery complex. Most of these projects will start contributing to distribution growth from 2Q14 onwards.
As a result, GEL is well positioned to continue to achieve distribution growth and a higher distribution coverage ratio with a steady income in the form of a 4% yield.