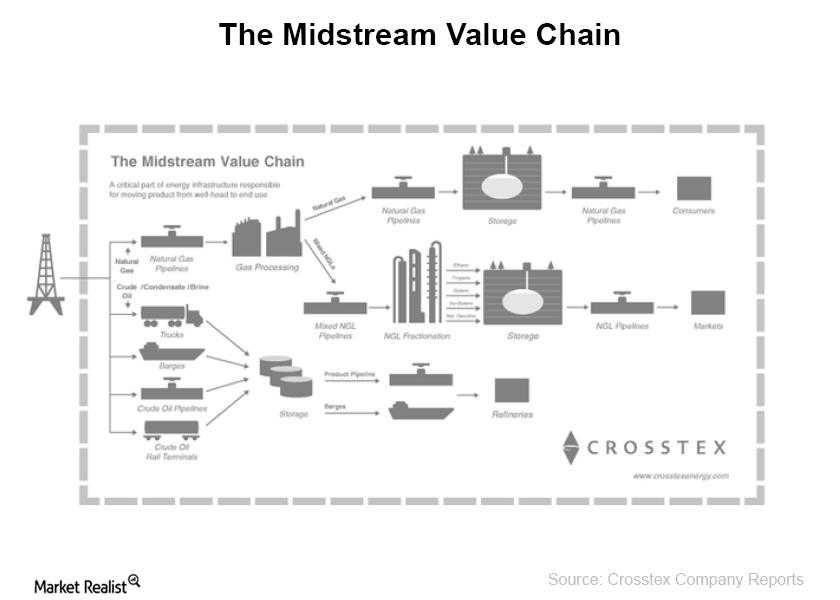 Why midstream and oilfield service companies need fracking
By Keisha Bandz

Jul. 23 2014, Updated 9:00 a.m. ET
Low upstream activity hurts midstream profits
Once the oil and natural gas has been discovered and taken out of the ground, midstream companies come into the picture. These companies offer several services, including transporting, storing, and processing natural gas and crude oil.
The above chart shows that the midstream segment is an integral part of the energy sector. It plays a critical role in moving oil and gas to end users.
Article continues below advertisement
A surge in production resulting from hydraulic fracturing creates demand for infrastructure to connect these newfound resources with refineries and processing plants. So profitability in the midstream sector relies on increased production in the upstream sector, as more midstream services would be used.
Limitations on fracking would mean less oil and gas production, which in turn would mean less need to build infrastructure as well as underutilization of existing infrastructure. This would be a negative for midstream operators. Midstream operators include Access Midstream Partners (ACMP), Kinder Morgan Partners (KMP), and Enterprise Product Partners (EPD). Most midstream companies—including ACMP, EPD, and KMP—are master limited partnerships and components of the Alerian MLP ETF (AMLP).
Oilfield service profitability depends on positive upstream activity
This segment is typically part of the upstream sector. Oilfield service companies build the infrastructure and provide the specialized equipment, services, and skills needed for exploring, drilling, and testing crude oil and natural gas wells.
Restrictions on fracking would imply decreased drilling by upstream companies. This in turn would create less demand for oilfield service and equipment providers. Baker Hughes Inc. (BHI) is one of the major oilfield services companies in the U.S.
To summarize, the increased production of both oil and gas from hydraulic fracturing is a boon to the U.S oil and gas industry, which has gone through significant changes in the past couple of years.
Before the shale revolution, the U.S. used to heavily rely on crude imports. But with increased production, the U.S. has not only decreased its dependence on foreign oil but has also recently been opening up to the idea of allowing crude exports. The loosening of the 40-year-old crude export ban provides the first outlet for the vast amounts of oil produced in the U.S.
To read about the significant repercussions this could have on the U.S. oil industry, please see the Market Realist series Must-know: US oil industry reaction to the loosening of the export ban.