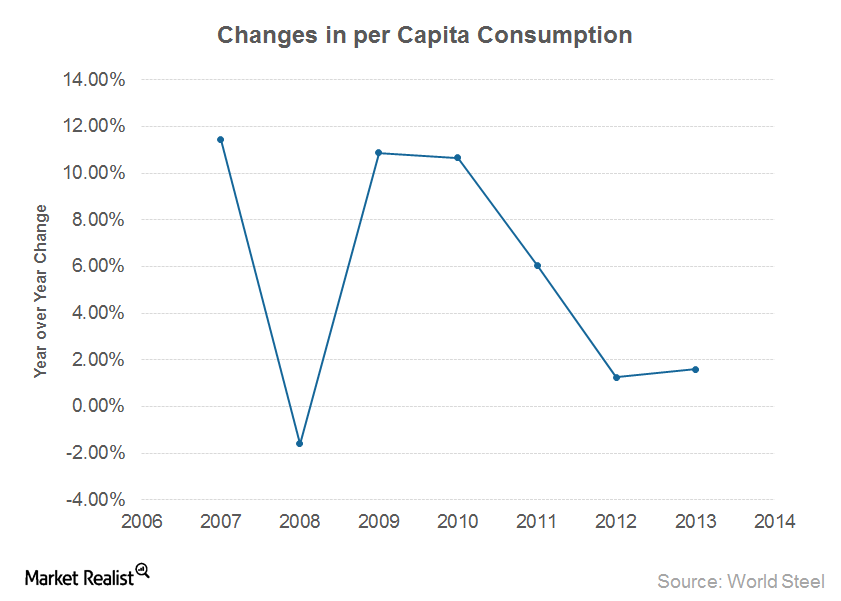 Why India could become the world's new steel giant
By Mohit Oberoi, CFA

Jul. 10 2014, Updated 5:00 p.m. ET
The Indian economy: A snapshot
India is the third-largest consumer of steel. It consumed 79 Mt of steel in 2013. As per Onicra, which is a credit rating agency in India, the country is expected to be the second-largest consumer by 2016. Per-capita consumption in India is among the lowest globally. India is the world's second-most-populated country, after China. It's part of the BRIC economies, which also include Brazil, Russia, and China. These are emerging economies that are moving toward development.
India: Trends in per-capita steel consumption
If you look at yearly changes in per-capita consumption in India, you see there's been a downturn in recent years. Take a look at the graph above. The business climate wasn't favorable. Companies were shying away from capital investments and increasing capacities.
After the recent elections, there has been a regime change in the country. The new government focuses on structural reforms. The following factors are expected to aid steel consumption in India:
Infrastructure spending: India lacks basic infrastructure amenities. The government has announced its intent to improve this. A lot of key projects, like high-speed railways linking major cities, highway construction, and housing for all citizens, have been planned by the new government.
Article continues below advertisement
Rising disposable incomes: The current GDP per capita (PPP) in India is only $5,148. This is more than half of China's. While we don't mean to suggest that this number is converging anytime soon, India has been on a rising trajectory. Rising income increases the demand for automobiles and other appliances. This in turn increases demand for steel.
Urbanization: Rising incomes and better job opportunities mean people are moving to cities. This is leading to demand for housing, which increases steel consumption.
India remains a silver lining for the steel industry. Increasing steel consumption in the world's second-most-populous country would be a key driver for companies and ETFs like Arcelor Mittal ADR (MT), United States Steel Corporation (X), Nucor Corporation (NUE), Reliance Steel & Aluminum (RS), and ETFs like the SPDR S&P metals and mining index (XME).