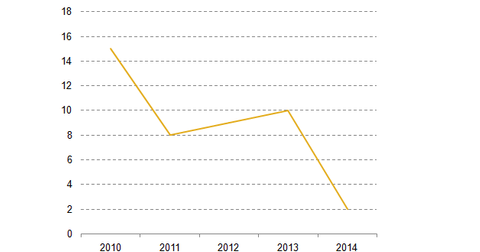 IBM chose the acquisition route for the 2015 roadmap milestone
By Anne Shields

Updated
Why IBM chose the acquisition route
During the last eight quarterly results, IBM Corp. (IBM) has failed to show decent top line performance. Due to reduced IT budgets, companies have shifted their preference towards public cloud space, which is hampering IBM's business. IBM is a company known for its awareness of the consumer's pulse. Expenditure in research and development lead to innovations, sale of non profitable segments, and constant effort to enter in emerging growth areas all reflect this trait of IBM.
The previous chart shows various IBM acquisitions since 2010. To date, there have only been two IBM acquisitions in 2014.

The previous table indicates the prominent acquisitions IBM has done since 2012. It's clear that most of the acquisitions are done in big data and cloud space.
Amount spent on acquisitions to date
Article continues below advertisement
According to IBM's 2013 annual report, since 2010, the company has spent $7 billion on 17 cloud acquisitions and plans to spend another $3.2 billion to expand its footprint in the data center and cloud space. In 2013, IBM acquired Softlayer, a dedicated server managed hosting and cloud service provider, for $2 billion. It's being touted by many as a smart move for IBM in the cloud space.
Strategic acquisitions to enhance domain expertise
In 2014, IBM acquired Aspera and Cloudant in line with its strategy to invade "big data" and cloud space. The acquisition of Aspera works on a patented technology to securely speed the movement of massive data files around the world. Cloudant, an enterprise software company, will extend IBM's capabilities in big data and cloud. Cloud space is seeing a lot of investments. In 2014, HP (HPQ) invested $1 billion in the cloud space to launch Helion, which focuses on open source cloud-based products and services. Cisco (CSCO) also divulged its plans to invest $ 1 billion in the cloud space in 2014.
Addressing varied segments
Through "Softlayer," IBM plans to provide cloud services to its customers for as less than $50 a month. This price sensitive market is dominated by Amazon web services (AMZN) (or AWS), that is known for its extremely low prices, scalability, and efficiency. Google (or GOOG) and Microsoft (MSFT) are other leading players that have contributed to the price war in the cloud space. AWS has lowered its prices more than 30x since its launch in 2006. However, due to security issues lingering on public cloud, many companies and government organizations still prefer mainframe. As a leader in this segment, IBM is known to provide a smooth transition between the mainframe and the private cloud. As a result, IBM caters to price sensitive customers through SoftLayer and old customers through its proficiency in mainframe.