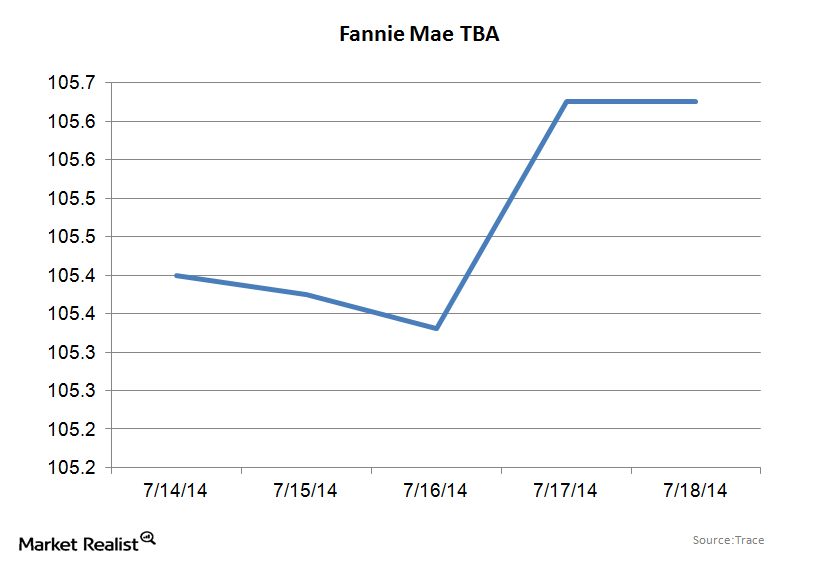 Fannie Mae TBAs catch a bid as bonds rally, driving mortgage REITs
By Brent Nyitray, CFA, MBA

Jul. 22 2014, Updated 5:00 p.m. ET
Fannie Mae TBAs
When the Federal Reserve talks about buying mortgage-backed securities (or MBS), it's referring to the To-Be-Announced (or TBA) market, usually referred to as "the TBA market." The TBA market allows loan originators to take individual loans and turn them into a homogeneous product that you can trade. TBAs settle once a month. Fannie Mae loans go into Fannie Mae securities. TBAs are broken out by coupon rate and settlement date.
In the following chart, we're looking at the Fannie Mae 4% coupon for August delivery.
TBAs catch a bid as the bond market rallies
Fannie Mae MBS rallied a bit on a strong bond market. The Fannie Mae 4% TBA started the week at 105 13/32 and ended up picking up about a quarter of a point.
Article continues below advertisement
The main action driving TBAs specifically seems to be out of Washington, between the Fed purchases and the government's policies to drive origination. Market participants may also be forecasting less volatility in interest rates. This benefits mortgage-backed securities. Second, the Financial Industry Regulatory Authority is announcing new margin requirements for TBA securities. This will deeply affect smaller mortgage lenders.
Implications for mortgage REITs 
Mortgage real estate investment trusts (or REITs) and exchange-traded funds (or ETFs) like Annaly (NLY), American Capital (AGNC), Capstead Mortgage (CMO), the iShares 20-year bond ETF (TLT), and the Mortgage REIT ETF (MORT) are the biggest beneficiaries of quantitative easing. Quantitative easing helps keep REITs' cost of funds low and they benefit from mark-to-market gains. This means their existing holdings of mortgage-backed securities are worth more as the TBA market rises. The downside is that interest margins compress going forward because yield moves inversely with price. Also, as MBS rally, prepayments are likely to increase. This negatively affects mortgage REITs.
As a general rule, a lack of volatility is good for mortgage REITs because they hedge some of their interest rates risk. Increasing volatility in interest rates increases the cost of hedging. This is because as interest rates rise, the expected maturity of the bond increases because there will be fewer prepayments. On the other hand, if interest rates fall, the maturity shortens due to higher prepayment risks. Mechanically, this means they must adjust their hedges and buy more protection when prices are high and sell more protection when prices are low. This "buy-high, sell-low" effect is called "negative convexity." It explains why Fannie Mae MBS yield so much more than Treasuries.