China's decrease in real estate sales show weak market conditions
By Katie Dale

Nov. 22 2019, Updated 7:26 a.m. ET
China's real estate sales
China's real estate sector is a key component of the country's economic activity. It accounts for ~11% of its gross domestic product (or GDP). Historically, changes in real estate activity have trended with the overall economy. China is the largest importer of iron ore. It's also the second largest importer of coking coal, which is used to make steel—a key material used to construct buildings in China. As a result, China's real estate activity positively correlates with shipping demand.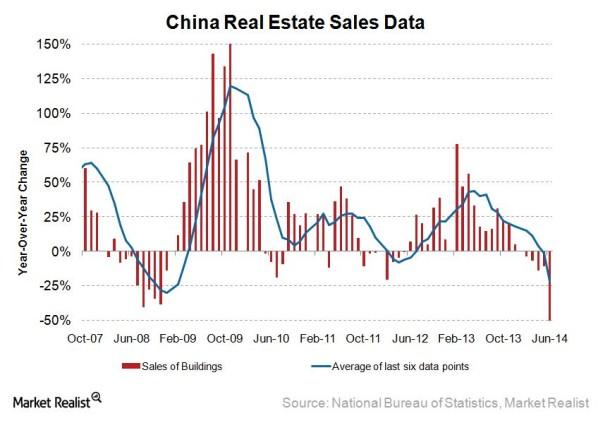 June climate index
Article continues below advertisement
For June, 2014, China's Real Estate Climate Index stood at 95—consistent with the levels last year and also with the previous month's levels. The Composite Index was developed by China's National Bureau of Statistics. It measures the aggregate business activity for land, capital, and sales of real estate, which is useful in showing the trend of the Chinese real estate market. Figures above 100 show prosperity or economic growth, while figures below 100 mark depression.
Meanwhile, in June, home sales in China increased 32.5% from levels in May as state-controlled banks offered more credit to buyers to prevent a slowdown in the sector. However, on a year-over-year (or YoY) basis sales dipped by 5.4% indicating that the cash-strapped developers were cutting prices and offering other incentives to entice buyers and reduce inventories of unsold homes in a weakening market.
Outlook
In order to support the housing sector, Beijing planned cuts in taxes and loosened monetary policy to ramp up activity in the sector. Also, with June bank lending coming in stronger there are indications that policymakers have adopted cooling down measures.
With demand from China slowing down, the dry bulk shipping companies to watch out are DryShips Inc. (DRYS), Diana Shipping Inc. (DSX), Knightsbridge Tankers Ltd. (VLCCF), Navios Maritime Partners LP (NMM), and Eagle Bulk Shipping Inc. (EGLE).