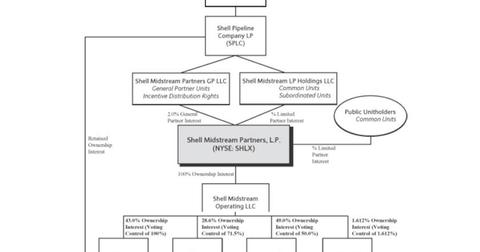 Why Shell Midstream Partners filed for an initial public offering
By Alex Chamberlin

Updated
The IPO
On June 16, 2014, Shell Midstream Partners filed for an initial public offering (or IPO). Shell Midstream Partners is a master limited partnership (or MLP) and an operating subsidiary formed by Royal Dutch Shell (RDS-A). Royal Dutch Shell is an upstream oil and gas company engaged in exploration and extraction of crude oil, natural gas, and natural gas liquids (or NGLs). Shell Midstream Partners is a Texas-based company that owns, operates, develops, and acquires pipelines and other midstream assets. Shell has filed a Registration Statement on Form S-1 with the U.S. Securities and Exchange Commission (or SEC) related to the proposed IPO of limited partner units of the MLP. RDS has proposed to list the new MLP under the symbol SHLX in the New York Stock Exchange (or NYSE). SPLC, the principal midstream subsidiary of Shell in the U.S. will own SHLX's general partner, a significant limited partner interest and the incentive distribution rights.
Shell Midstream's assets
Article continues below advertisement
Shell Midstream Partners owns interests in two crude oil pipeline systems, Zydeco and Mars, and two refined products systems, Bengal System and Colonial System. The crude oil pipelines are located along the Texas and Louisiana Gulf Coast and offshore Louisiana. These pipeline systems connect to the refined products pipelines, which connect Gulf Coast and southeastern U.S. refineries to major demand centers from Alabama to New York.
Offer size
Shell Midstream didn't disclose the expected size or unit price for the offering in the filing with the SEC. Shell Midstream intends to use the net proceeds of the offering to make a cash distribution to SPLC, its general partner, for capital expenditures in various growth projects and for other general partnership purposes.
Revenue and profit
During the 12 months ending March 31, 2014, Shell Midstream had pro-forma revenues of $99.8 million and net income of $89.6 million, according to its IPO filing. By June 30, 2015, the company expects to increase annual revenues by ~150% to $249 million and net income by 115% to $192.5 million. It also estimates to increase adjusted EBITDA (earnings before interest, tax, depreciation and amortization) by more-than threefold and double distributable cash flows by June, 2015. For a complete discussion on the growth projects, please continue reading the next sections in this series.
The company expects to complete the IPO process in the second half of this year.
Following the completion of the IPO process, Shell Midstream Partners is expected to operate as an MLP in the midstream oil and gas pipeline industry. Royal Dutch Shell (RDS-A), through its subsidiary Shell Pipeline Company L.P. (SPLC) will be the general partner of the company. Other midstream operators in the crude oil and refined products pipeline business include Sunoco Logistics Partners (SXL), Enterprise Products Partners (EPD), and Plains All American Pipeline (PAA). These are components of the Alerian MLP ETF (AMLP). RDS-A is a component of the Vanguard FTSE Developed Markets ETF (VEA).