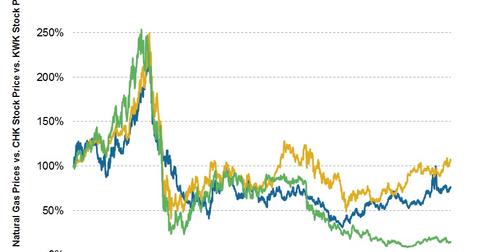 Why natural gas prices increased on the latest inventory report
By Ingrid Pan

Updated
Natural gas inventories increased less than expected
On Thursday, June 12, 2014, the U.S. Energy Information Administration (or EIA) reported that natural gas inventories increased by 107 bcf (billion cubic feet) for the week ending June 6, bringing current inventories to 1,606 bcf. A survey of experts had estimated the increase in inventories to be 110 bcf.
Last week's build in natural gas inventories was less than the market's expectation, which indicated stronger demand or weaker supply than expected. Investors can interpret this as a positive signal for natural gas prices. Natural gas prices traded higher on the day to close at $4.76 per million British thermal units (or MMBtu)—compared to $4.51 per MMBtu the previous day.
Natural gas price volatility is important for gas-weighted energy producers like Chesapeake Energy
Article continues below advertisement
Investors with stake in natural gas through an ETF such as the U.S. Natural Gas Fund (UNG) or natural gas producers such as Chesapeake Energy (CHK), Devon Energy (DVN), Range Resources (RRC), and Quicksilver Resources (KWK) should monitor inventory draws and builds because they're significant data points in the national supply and demand picture of natural gas. The supply and demand dynamics of the commodity affect its price and, in turn, the margins of companies that produce natural gas. This week's increase in natural gas prices could be positive news for these companies.
Background: Natural gas inventories are far lower than average
Current natural gas inventories are roughly 35% lower than the average of the past five years because last winter brought extremely cold weather. Natural gas demand surged, which resulted in a large depletion of inventories as well as an increase in prices. The front month natural gas futures contract was trading around ~$3.50 per MMBtu in early November to peak above $6 per MMBtu at points in February. It is currently at ~$4.75 per MMBtu.
The markets will be watching to see how natural gas inventories move through the spring and summer ahead of the peak winter demand season. Inventory levels that remain below average could prime natural gas prices for a rally this coming winter.