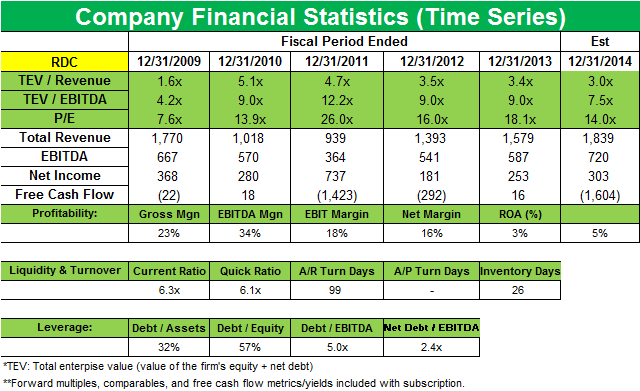 Why Magnetar Financial initiates new position in Rowan Companies
Magnetar Financial and Rowan Companies
Magnetar Financial started new positions in Exterran Holdings Inc. (EXH), Rowan Companies Plc. (RDC), SiriusXM (SIRI), and Yahoo! Inc. (YHOO). Top positions sold were EOG Resources (EOG) and EQT Corp (EQT).
Magnetar initiated a brand new position in Rowan Companies Plc. (RDC) which accounts for 1.96% of the fund's 1Q portfolio.
Rowan Companies is a global provider of offshore oil and gas contract drilling services utilizing a fleet of 30 self-elevating mobile offshore "jack-up" drilling units and four ultra-deepwater drillships—three of which are currently under construction. It conducts offshore drilling operations in various markets throughout the world including the United Kingdom (U.K.) and Norwegian sectors of the North Sea, the Middle East, the United States Gulf of Mexico (US GOM), Southeast Asia, West Africa, Trinidad, and Egypt. During 2013, Rowan generated revenues of $1.579 billion and operating income of $331.7 million.
Article continues below advertisement
Rowan said in its 10K that its main focus historically has been on high-specification and premium jack-up rigs, which its customers use for exploratory and development drilling and associated drilling services. In 2009, Rowan embarked on a new strategy that included divesting non-core assets and investing in ultra-deepwater assets, aimed at balancing earnings from jack-ups and deepwater rigs over the long term. Its fleet includes 19 high-specification cantilever jack-up rigs, including one Gorilla class rig, three N-Class rigs, four enhanced Super Gorilla class rigs, four Tarzan Class rigs, three 240C class rigs, and four EXL class rigs. It also has eight premium cantilever jack-up rigs, including two Gorilla class rigs and six 116-C class rigs.
Rowan gets contract from Freeport-McMoRan Oil & Gas for its fourth ultra-deepwater drillship
In 2011 and 2012, Rowan entered into contracts with Hyundai Heavy Industries Co. Ltd. for the construction of four ultra-deepwater drillships. In January, 2014, the company took delivery of the first of these drillships, the Rowan Renaissance, which is expected to commence drilling operations offshore of West Africa under a three-year contract beginning in April, 2014, at an effective day rate of $619,000. The three remaining ultra-deepwater drillships under construction, the Rowan Resolute, Rowan Reliance, and Rowan Relentless, are scheduled for delivery in late June, 2014, late October, 2014, and March, 2015, respectively. The Rowan Resolute has a three-year contract commencing in the US GOM in late September, 2014, at an effective day rate of $608,000. The Rowan Reliance has a three-year contract commencing operations in the US GOM in late January, 2015, at an effective day rate of $602,000.
The company recently announced one of its subsidiaries has entered into a two-year drilling contract with with Freeport-McMoRan Oil & Gas for Rowan Relentless. The contract is expected to commence in the 3Q15 and will add approximately $425 million to Rowan's current contract backlog.
First quarter revenue down on lower utilization
Article continues below advertisement
First quarter results beat estimates despite a decline in earnings and revenue. The offshore driller generated net income from continuing operations of $55.6 million, or $0.45 per share, compared to $68.1 million, or $0.55 per share in the 1Q13. Rowan's revenues were $377.6 million in the 1Q14—down 4% from the prior-year quarter due to slightly lower utilization.
The company said 1Q revenues and operating results were significantly impacted by the previously disclosed out-of-service periods for the Gorilla VI and Gorilla VII. The Gorilla VII was out of service from July, 2013, through mid-February, 2014, when it returned to work under contract. In July, 2013, while the Gorilla VII was changing locations, the legs were severely damaged as the hull was being lowered into the water. Extended poor weather conditions in the North Sea hampered the rig's ability to return to work. These two rigs together accounted for a $31 million decline in revenues between periods and lowered utilization for the high-specification jack-up class by 5% and total utilization by 2%.
Rowan is bullish despite a "softening market"
The management said, "We are in an excellent competitive position due to our high-specification jack-ups and ultra-deepwater drillships, along with our highly skilled drilling crews, even as the industry may face headwinds as new capacity enters the market and displaces older and less capable rigs." They added on the earnings call that, "we started this year with 19 jack-ups scheduled to roll off contract in 2014. To date, we have successfully extended four of those units at higher rates amid the industry's concern over a softening market."
A Fitch release in May noted that "the market expects floater rig day rates to exhibit weaker trends in the near-term mainly due to the timing of newbuild deliveries and contract rollovers. It added that jackup rigs, on the other hand, are reportedly experiencing more day rate resiliency. However, Fitch pointed to the large delivery backlog of speculative jackups as a cause for concern. Near-term demand has moderated as international oil companies (IOCs) focus on cash flows and shareholder returns and national oil companies (NOCs), particularly Petrobras, delay drilling programs further depressing market conditions. Fitch said it believes that drillers with higher quality assets during the oversupply cycle are likely to experience better market utilization and day rates than lower quality peers."
Rowan's peers include Seadrill Ltd. (SDRL), Ensco Plc. (ESV), Transocean Ltd. (RIG) and Nobel Corp. (NE). Magnetar's latest filing revealed that it has sold a $30 million worth position in Ensco last quarter.
The company said in January that its board decided to reinstate a modest quarterly dividend beginning in the second quarter of this year. It declared a quarterly cash dividend of $0.10 in April.