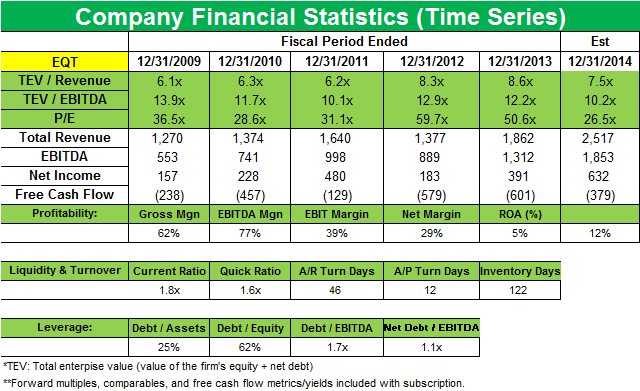 Why Magnetar Financial disposes position in EQT
Magnetar Financial and EQT
Magnetar Financial started new positions in Exterran Holdings Inc. (EXH), Rowan Companies Plc. (RDC), SiriusXM (SIRI), and Yahoo! Inc. (YHOO). Top positions sold were EOG Resources (EOG) and EQT Corp. (EQT).
Magnetar exited a position in EQT Corp. (EQT) which accounted for 1.04% of the fund's 4Q portfolio.
EQT is an exploration and production company. It conducts its business through two business segments, namely EQT Production and EQT Midstream. EQT Production is one of the largest natural gas producers in the Appalachian Basin with 8.3 trillion cubic feet equivalent (or Tcfe) of proved natural gas, natural gas liquids (or NGLs), and crude oil reserves across approximately 3.6 million gross acres, including approximately 580,000 gross acres in the Marcellus play, as of December 31, 2013. EQT Midstream provides gathering, transmission, and storage services for the company's produced gas, as well as for independent third parties across the Appalachian Basin.
Article continues below advertisement
EQT owns a 2% general partner interest, and a 42.6% limited partner interest in EQT Midstream Partners L.P. (EQM), which is a growth-oriented master limited partnership (or MLP) that owns, operates, acquires, and develops midstream assets in the Appalachian Basin. The Ppartnership provides substantially all of its natural gas transmission, storage, and gathering services under contracts with fixed reservation and usage fees, with a significant portion of its revenues being generated under long-term firm contracts. In December, 2013, EQT completed the sale of its natural gas distribution business, Equitable Gas Company LLC, to Peoples Natural Gas for a cash payment of approximately $740 million, as well as select midstream assets and commercial arrangements.
EQT and Florida-based NextEra Energy recently launched a non-binding open season for the Mountain Valley Pipeline project, which is expected to connect the Marcellus and the Utica natural gas supply to demand markets in the Southeast region of the United States. The companies also announced the signing of a letter of intent to form a joint venture that is expected to construct and own the Mountain Valley Pipeline.
Article continues below advertisement
EQT struck a deal in which it received approximately 73,000 net acres and more than 900 producing wells in the Permian Basin of Texas from Range Resources (RRC). In exchange, Range received approximately 138,000 net acres and the remaining interest in a supporting gathering system in the Nora Field of Virginia, plus $145 million cash.
EQT misses on 4Q estimates, but beats in 1Q
The company missed on 4Q13 earnings and revenue back in February. 4Q13 adjusted earnings were $72.5 million, 11% higher than 2012. Adjusted earnings per share (or EPS) was $0.47, up from $0.43 in 2012. Operating revenues increased to $493.43 million from $406.27 million in the year ago quarter.
First quarter results topped estimates. Net income increased to $192.19 million or $1.27 per share from $100.26 million or $0.67 per share in the prior-year quarter. EQT's 1Q14 operating income was $356.8 million—a 147% increase from the same quarter 2013. EPS and adjusted cash flow per share were higher due to increases in production sales volume, realized price, contracted transmission capacity, and gathered volume. Net operating revenues for the quarter increased 63% to $661.63 million from $415.88 million in the same quarter last year. EQT Midstream's 1Q14 operating income was $83.1 million. Net operating revenue was 15% higher at $148.7 million.
EQT delays Utica drilling program
Article continues below advertisement
EQT said it drilled (spud) 64 gross wells during the quarter—46 wells targeted the Marcellus with an average length-of-pay of 5,870 feet; 14 wells targeted the Huron with an average length-of-pay of 6,395 feet; and four wells targeted the Upper Devonian with an average length-of-pay of 5,460 feet. In 2014, it will complete and evaluate five Utica wells drilled in 2013, but has decided to delay further drilling on its Ohio Utica acreage until after this year. When asked, the management said on the earnings call that "decision was driven by the fact that the first wells that we drilled were not where they needed to be to have a viable economic play there."
EQT said total capital investment, excluding acquisitions, is expected to be approximately $2.5 billion in 2014. Capital investment for well development (primarily drilling) in 2014 is expected to be approximately $1.9 billion to support the drilling of approximately 357 gross wells, including 194 Marcellus wells, 120 Huron wells, and 43 Upper Devonian wells.
EQT Midstream Partners announced a cash distribution to its unitholders of $0.49 per unit for the first quarter, from which EQT will receive $10.2 million on its limited partner units. In addition, EQT will receive $0.5 million related to its 2% general partner interest, and $1 million for its incentive distribution rights as EQT receives 25% of the amount in excess of $0.4375 per unit.