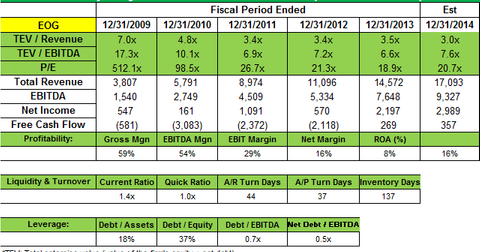 Why Magnetar Financial exits position in EOG Resources
By Samantha Nielson

Updated
Magnetar Financial and EOG Resources
Magnetar Financial started new positions in Exterran Holdings Inc. (EXH), Rowan Companies Plc. (RDC), SiriusXM (SIRI), and Yahoo! Inc. (YHOO). Top positions sold were EOG Resources (EOG) and EQT Corp. (EQT).
Magnetar exited a position in EOG Resources (EOG) which accounted for 6.95% of the fund's 4Q portfolio. The position was likely initiated in 1Q12 per previous 13F filings. The stock is up 125% since the beginning of 2012.
Article continues below advertisement
EOG is one of the largest independent (non-integrated) crude oil and natural gas companies in the United States with proved reserves in the United States, Canada, Trinidad, the United Kingdom, China, and Argentina. During 2013, EOG said it continued the expansion of its gathering and processing activities in the Eagle Ford in south Texas, the Bakken and Three Forks plays in North Dakota, the Permian Basin in west Texas and New Mexico, and the Barnett Shale in north Texas. In addition, EOG has operations offshore of Trinidad, in the U.K. North Sea and East Irish Sea, in the China Sichuan Basin, and in the Neuquén Basin of Argentina. EOG believes it is the biggest oil producer in the Eagle Ford play with net volumes of approximately 142 thousand barrels per day (MBbld) of crude oil and condensate in 2013, an increase of 79% over year-end 2012.
EOG reports robust 1Q results
EOG's 1Q14 profit was up 34% to $661 million, or $1.21 per share, up from $495 million, or $0.91 per share in the year ago quarter. Adjusted non-generally accepted accounting principles (or GAAP) net income for the 1Q14 was $767.7 million and excluded a previously disclosed non-cash net loss of $155.7 million on the mark-to-market of financial commodity derivative contracts.
In the 1Q14, EOG said it "increased its total crude oil and condensate production by 42%, compared to the same prior year period, while U.S. crude oil and condensate production rose 45%. Overall total company production increased 18% led by a 37% increase in total company liquids production—crude oil, condensate, and natural gas liquids (NGLs)." During the 1Q14, net operating revenues increased $727 million, or 22%, to $4,084 million from $3,357 million for the same period of 2013.
Article continues below advertisement
Based on current results, EOG expects its 2014 crude oil and condensate and NGLs production to continue to increase both in total and as a percentage of total company production as compared to 2013. EOG's major producing areas in the United States and Canada are in New Mexico, North Dakota, Texas, Utah, Wyoming, and western Canada.
Rocky Mountain plays is a growth catalyst
EOG said the addition of Rocky Mountain plays has enhanced its drilling portfolio. It said, "With combined estimated net potential reserves of approximately 400 million barrels of oil equivalent (MMboe), the Codell, Niobrara, Parkman, and Turner plays are generating excellent rates of return and remarkably consistent well results, due in part to reductions in drilling costs and advancements in completion techniques." The management added that, "The sweet spots in these four plays are expected to make meaningful contributions to EOG's crude oil production profile for years to come."
In addition, EOG said "reflecting enhancements to completion techniques and improved well productivity, the Eagle Ford once again was the single largest contributor to EOG's robust U.S. crude oil growth." EOG has plans to drill approximately 520 net wells across its Eagle Ford acreage during 2014, and expects the play's extremely robust production will again lead its overall crude oil growth, the company noted in its 4Q13 earnings release.
For more on Eagle Ford Shale play, please read Why investors should watch the Eagle Ford Shale in the future on the Market Realist website.
The Houston, Texas-based company said in February that it is "targeting 27% total company crude oil production growth in 2014, driven by 29% growth in the U.S." The statement further noted that the company doesn't plan to allocate capital to North American dry natural gas drilling in 2014. As a result, its North American natural gas production is expected to decline 6%. Total company production is expected to increase 11.5%. Capital expenditures for 2014 are expected to range from $8.1–$8.3 billion, including production facilities and midstream expenditures, but excluding acquisitions.
EOG is a part of ETFs such as the VanEck Vectors Unconventional Oil & Gas ETF (FRAK), the Energy Select Sector SPDR Fund (XLE), the Vanguard Energy ETF (VDE), and the SPDR S&P Oil & Gas Exploration & Production ETF (XOP).