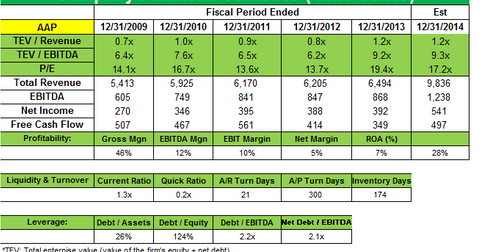 Why Eminence Capital exits position in Advance Auto Parts
By Samantha Nielson

Updated
Eminence Capital and Advance Auto Parts
Ricky Sandler's Eminence Capital initiated new positions in Cadence Design Systems (CDNS), McDonald's Corp. (MCD), Restoration Hardware Holding (RH), and Ralph Lauren Corp. (RL). It sold shares in Advance Auto Parts Inc. (AAP) and Monster Beverage Corp. (MNST).
Eminence Capital exited a position in Advance Auto Parts Inc. (AAP) that accounted for 1.85% of the fund's 4Q13 portfolio. The position was initiated in 3Q11, per previous 13F disclosures.
Article continues below advertisement
Advance Auto Parts is a leading specialty retailer of automotive aftermarket parts, accessories, batteries, and maintenance items primarily operating within the United States, with additional locations in Canada, Puerto Rico, and the Virgin Islands. Its stores carry an extensive product line for cars, vans, sport utility vehicles, and light trucks. The company serves both "do-it-yourself," (or DIY), and "do-it-for-me" or commercial customers. As of April 19, 2014, AAP operated a total of 5,276 stores and 105 distribution branches. It operates in two reportable segments: Advance Auto Parts (or AAP) and Autopart International (or AI).
Harsh weather boosts replacement parts sales, but 4Q profits fall

Total sales during fiscal 2013 increased 4.7% to $6.49 billion as compared to fiscal 2012. For fiscal 2013, the company generated diluted earnings per share (or EPS), of $5.32 compared to $5.22 for fiscal 2012, but the EPS was negatively impacted by $27 million of transaction related expenses related to the acquisitions of General Parts International (or GPI) in January, 2014, and $8 million of expenses associated with integration of car parts supplier B.W.P. Distributors, which was acquired at the end of 2012.
Article continues below advertisement
AAP noted in its annual filing that, "Throughout much of fiscal 2013, our sales remained constrained in many of our markets in part due to the ongoing uncertainty in the macroeconomic environment and increased competition in our operating area. During the fourth quarter of fiscal 2013, our sales accelerated particularly in some of our colder weather markets, driven by the extraordinary cold weather which has increased the demand for failure and maintenance parts."
AAP noted that consumers continue to remain cautious with their spending, focusing on needed repairs for part failure or safety to ensure vehicle reliability in tough winter conditions. Peers O'Reilly Automotive (ORLY) and AutoZone (AZO) also benefited from the severe weather and a slow down in new car sales that have boosted sales of replacement parts. A survey done by research firm Polk stated that the average age of vehicles on the U.S. roads has increased to 11.4 years.
Acquisitions drive first quarter sales increase

Article continues below advertisement
AAP acquired GPI in an all-cash transaction for $2.08 billion in January to expand its geographic presence, commercial capabilities, and overall scale to better serve customers. GPI, formerly a privately-held company, is a distributor and supplier of original equipment and aftermarket replacement products for commercial markets operating under the CARQUEST and WORLDPAC brands. It acquired 1,233 CARQUEST stores and 103 WORLDPAC branches as a result of the acquisition of GPI.
Results beat expectations as total sales during the 1Q14 were $2.96 billion, an increase of 47.3% from the year ago quarter driven by the acquisition of GPI, a comparable store sales increase of 2.4% and new stores opened during the past 12 months. Diluted EPS was $2.25, an increase of 35.5% versus the first quarter last year, but excluded $0.11 of amortization of acquired intangible assets, and integration costs related to GPI and BWP. In the latest 10Q for first quarter, AAP noted that, "Our customer traffic continued to improve from our prior year experience and was more consistent throughout the quarter driven by higher demand resulting from the extreme winter weather. Sales in all markets accelerated from the fourth quarter, with our cold weather markets accelerating at a faster pace."
AAP said, "Given our performance in the first quarter and the execution momentum we continue to build, we are raising our full year guidance for Comparable Cash EPS to be in the range of $7.30–$7.50."