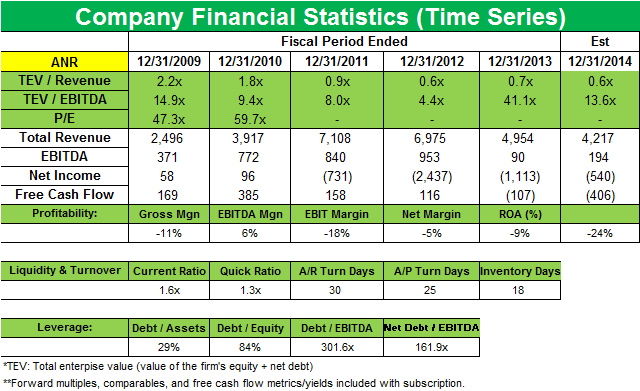 Davidson Kempner adds convertible bond position in Alpha Natural Resources
Davidson Kempner and Alpha Natural Resources
Davidson Kempner added new positions in Omnicom Group Inc. (OMC), JPMorgan Chase (JPM), Brunswick Corporation (BC), and Vitamin Shoppe Inc. (VSI). It exited positions in Perrigo Co. Plc. (PRGO) and Apple Inc. (AAPL).
Alpha Natural Resources Inc. (ANR) is a convertible bond position initiated by Davidson Kempner. Although the position accounts for 1.37% of the portfolio, the equity exposure is low considering it is a bond.
Article continues below advertisement
Alpha Natural Resources is one of America's premier coal suppliers, ranked second largest among publicly-traded U.S. coal producers as measured by 2013 consolidated revenues of $5 billion. It's a leading supplier and exporter of metallurgical coal for use in the steel-making process. It's also a major supplier of thermal coal to electric utilities and manufacturing industries across the country as well as a growing exporter of thermal coal. As of December 31, 2013, the company operated 81 mines and 25 coal preparation plants in northern and central Appalachia and the Powder River Basin. It produces, processes, and sells steam and metallurgical coal from its operations located in Virginia, West Virginia, Kentucky, Pennsylvania, and Wyoming.
New EPA carbon emission proposal could impact coal producers
In a recent article on our website titled Why the new EPA carbon emission proposal impacts gas and coal, we noted that the Environmental Protection Agency (or EPA) proposed a rule that aims to reduce carbon dioxide (or CO2) emissions from existing coal plants by 30% by 2030 from the 2005 level. The report adds that the proposed reduction of CO2 gas from the power plants would mainly have a negative affect on the coal-fired plants. This would reduce the demand for coal in regions like eastern and western Mississippi. The above-mentioned report highlights the impact of these new rules on ANR and its peers.
Article continues below advertisement
However, analysts from Stifel have argued in favor of coal and said, "The CO2 policy proposal represents the continuation of a long struggle for U.S. power market share between natural gas (+ renewables) and coal, a conflict that has intensified during a period of flat U.S. power demand from 2005 to 2013." Analysts said that "Much of the investment case for U.S. coal, in our view, centers on its ability to step in as a low-cost, reliable 'Plan B' if 'Plan A' (gas+renewables) falls short. The cold weather-impacted 1Q14 offered a glimpse of what this might look like, in our view." The analysts added they "favor exposure to U.S. coal mining firms in low-cost regions including the Illinois Basin, Powder River Basin, and northern Appalachia."
Alpha's first quarter loss narrows
Despite the challenging conditions for the coal industry, ANR beat estimates for 1Q14. It posted a narrower net loss of $56 million or $0.25 per diluted share compared with a net loss of $111 million or $0.50 per diluted share in the 1Q13. Adjusted earnings before interest, taxes, depreciation, and amortization (or EBITDA) was $289 million, compared with $117 million in the 1Q13. Total revenues in the 1Q14 were $1.1 billion compared with $1.3 billion in the 1Q13, and coal revenues were $1 billion, down from $1.1 billion in the same period last year. The decreases in total revenues and coal revenues were primarily attributable to lower average realizations and lower shipments of metallurgical and steam coal.
Article continues below advertisement
The company said that, "Financially, we remained focused on prudent balance sheet management and, as a result of our cost management initiatives and proceeds from the exchange of our joint venture interest in Alpha Shale, we increased Alpha's total liquidity to more than $2.1 billion with cash, cash equivalents, and marketable securities of nearly $1.2 billion. This allows us to maintain our financial flexibility, continue our cyclical resilience, and position Alpha to take advantage of potential improvements in the coal markets when they occur. We also reduced our outstanding 2015 convertible debt to $159 million from $194 million, as part of our ongoing efforts to manage our maturities effectively."
Metallurgical coal market remains challenged, guidance lowered
ANR's earnings release further said, "Oversupply remains the most significant challenge in the coal markets right now, and particularly in the seaborne segment. The global seaborne market for metallurgical coal remains challenged with pricing softening further in early 2014, impacted by the seasonal slowdown in Chinese iron production, relatively weak foreign currencies of major producing countries, and increased production of coking coal, primarily out of Australia."
Article continues below advertisement
Alpha said it's lowering its metallurgical coal shipment guidance for the year to 15–18 million tons, down from 16–20 million tons previously disclosed. "While domestic thermal prices have firmed up, the seaborne thermal and metallurgical coal markets remain difficult," the company said. However, ANR believes that "metallurgical coal prices have bottomed and will begin to improve in the latter part of the year and into 2015, and that it is well positioned to continue managing its costs and balance sheet in the interim." The company said it sees the "potential for a better supply and demand balance and improved metallurgical coal pricing taking hold in 2015. European economies continue to show improvement, and fundamentals for integrated European steel mills also seem to be improving, which should support increased opportunity in the Atlantic export market."
Thermal coal prospects appear positive
Alpha was positive on thermal coal, and said, "Thermal coal is a more constructive market right now and is returning to a normalized level at a faster rate than metallurgical coal. With international thermal coal encountering a weak pricing environment so far this year, we believe domestic thermal coal presents the greatest opportunity, and we are beginning to see positive developments that could be a precursor to an increasingly favorable pricing environment in the coming months." Alpha also said that thermal demand in Europe is expected to increase due to an increased number of proposed coal-fired plants, especially in Germany, and an increasing desire to lessen reliance on Russian coal and natural gas.
Weak market conditions could impact ANR and its peers
Article continues below advertisement
The weakness in the coal market and fall in prices has impacted ANR and its stock is down almost 50% year-to-date (or YTD). A Bloomberg report citing analysts said ANR is slated to lose more money in the current year and next after posting losses continuously for three years. ANR saw a Moody's downgrade in May reflecting "sharp contraction in metrics due to weak metallurgical coal market conditions, marked by a second quarter benchmark settlement for high quality coking coal of $120 per ton." Moody's added "Although thermal markets have recently shown a positive trend on the back of cold winter, higher natural gas prices, and declining coal inventories, the company's metrics are particularly sensitive to the metallurgical (met) coal markets. We believe that if met prices persist in $120–$145 range, the company's EBITDA will be insufficient to cover interest expenses and Alpha will generate negative operating and free cash flows."
A UBS analyst said in May that "There continues to be signs of mounting financial distress in the coal sector" and "While there does not appear to be any imminent bankruptcy risk, we want to discuss the potential event path to a next potential liquidity crisis looking ahead 2–3 years. Within our coverage universe, the companies with the most financial leverage include Alpha Natural, Arch Coal, and Walter Energy."
Alpha competes with other major players in the global coal industry such as Arch Coal (ACI), Peabody Energy (BTU), and Consol Energy (CNX). These companies are a part of the VanEck Vectors-Coal ETF (KOL), which is down 4% YTD.
Notice of correction: When this article was originally published, it did not mention the convertible bond position. The information has been amended to reflect the update.