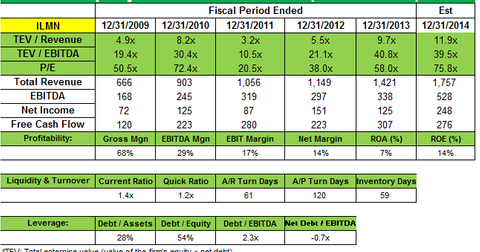 Why did Halvorsen's Viking Global boost its position in Illumina?
By Samantha Nielson

Updated
Viking Global and Illumina
Andreas Halvorsen's Viking Global Investors initiated new positions in Regeneron Pharmaceuticals (REGN), Pioneer Natural Resources (PXD), and Workday (WDAY). The fund sold positions in Danaher Corp. (DHR) and Walt Disney (DIS). Notable position increases included Illumina (ILMN) and Walgreens (WAG).
Viking Global Investors significantly increased its position in Illumina (ILMN) last quarter. The position, which accounted for 0.88% of Viking's total 4Q 2013 portfolio, is now the fund's third largest position, at 5.53% of the 1Q 2014 portfolio.
Article continues below advertisement
Illumina is a leading developer, manufacturer, and marketer of life science tools and integrated systems for the analysis of genetic variation and function. It provides innovative sequencing—and array-based solutions—for genotyping, copy-number variation (CNV) analysis, methylation studies, and gene expression profiling of DNA and RNA. Customers include leading genomic research centers, academic institutions, government laboratories, hospitals, and reference laboratories as well as pharmaceutical, biotechnology, agrigenomics, commercial molecular diagnostic, and consumer genomics companies.
Shares rise in January on the launch of next-generation sequencing platforms
Shares surged after the company disclosed a strategic roadmap for market expansion in January. Illumina announced two transformative platforms that redefine next-generation sequencing, with the addition of the NextSeq 500 System and the HiSeq X Ten to its portfolio. With the HiSeq X Ten Sequencing System, the company introduced a $1,000 genome technology to gain a share of the $20 billion gene-sequencing market. According to the release, "This platform includes dramatic technology breakthroughs that enable researchers to undertake studies of unprecedented scale by providing the throughput to sequence tens of thousands of human whole genomes in a single year in a single lab."
Illumina added, "Purpose-built for population-scale human whole genome sequencing, the HiSeq X Ten is an ideal platform for scientists and institutions focused on the discovery of genotypic variation to enable a deeper understanding of human biology and genetic disease."
Results continue to beat estimates
Article continues below advertisement
Illumina reported robust 4Q  results in January that topped estimates. For fiscal 2013, revenue was up 24% to $1.42 billion over the $1.15 billion reported in fiscal 2012. 4Q revenue was $387 million, a 25% increase compared to the $309 million recorded in the fourth quarter of 2012. GAAP net income for the quarter reached $81 million, or $0.56 per diluted share, compared to $72 million, or $0.53 per diluted share, for the fourth quarter of 2012.
Illumina reported a "strong start to fiscal 2014," with revenue of $421 million—a 27% increase compared to $331 million in the first quarter of 2013. GAAP net income for the quarter reached $60 million, or $0.40 per diluted share, compared to net loss of $23 million, or $0.18 per diluted share, for the first quarter of 2013.
Illumina signs new agreements
Illumina entered into a multi-year licensing agreement in January with Quest Diagnostics related to the use of Illumina's next-generation sequencing technology for clinical laboratory testing. The company also a struck a multi-year supply agreement with LabCorp, which gets to purchase a broader range of Illumina products for the development of new diagnostic tools in multiple specialties, including genetic testing, oncology, transplant medicine, and forensics. The company announced that Novogene, Human Longevity, Inc., and WuXi Genome Center have purchased its HiSeq X Ten sequencing systems in 1Q 2014. Plus, Illumina has introduced new products to support oncology clinical research and discovery.
Illumina's stock continues to rally
Illumina shares are up 49% year-to-date and 196% up since the beginning of 2013. According to a survey by the industry trade publication In Sequence, which was cited by Bloomberg in January, Illumina raised its market share to 71% in 2013, followed by Life Technologies at 16%, Roche at 10%, and Pacific Biosciences at 3%. Illumina rival Thermo Fisher Scientific completed the $13.6 billion acquisition of Life Technologies Corp. in February to effectively compete in the gene sequencing space. Viking Global trimmed its position in Thermo Fisher Scientific last quarter.
During the first quarter of 2014, Illumina repurchased 0.8 million shares for $130.0 million. In January, the board authorized up to $250 million to repurchase shares. The company recently announced a $900 million convertible senior notes offering.