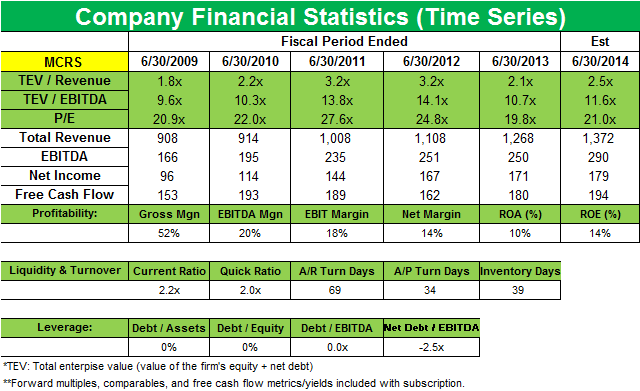 ValueAct Capital reduces its position in Micros Systems in 1Q14
By Samantha Nielson

Jun. 3 2014, Published 1:00 p.m. ET
ValueAct Capital and Micros Systems
Jeffrey Ubben's ValueAct Capital Management acquired new positions in Symantec Corp. (SYMC) and Expeditors International of Washington Inc. (EXPD). Although no positions were sold, the fund trimmed a position in Micros Systems Inc. (MCRS). Notable position increases included Microsoft Corp. (MSFT) and MSCI Inc. (MSCI).
ValueAct Capital trimmed its position in Micros Systems Inc. (MCRS) from 3.18% in 4Q 2013 to 0.91% last quarter. The 7.5% stake in Micros Systems was disclosed in March 2013. The stock is up 27% since March of last year.
Article continues below advertisement
Micros Systems Inc. is a leading worldwide designer, manufacturer, marketer, and servicer of enterprise applications solutions for the global food and beverage, hotel, and retail industries. Its food and beverage information systems include enterprise applications, kitchen product applications, mobile applications, marketing applications, and hardware. Most of the software products are designed to operate on industry-standard computers, point-of-sale terminals and workstations, and mobile devices. The company's OPERA software suite for the hotel industry includes room reservations, sales and catering, central room reservations, customer information system, revenue management, sales support, data mining, financial statements, condominium reservations and accounting, golf reservations, spa management, and quality management. Through its subsidiary, Fidelio Cruise, Micros markets the Ships Property Management System (or SPMS) suite of applications, which includes a software product designed for use by the cruise industry. The company's retail enterprise software applications encompasses store-based systems, cloud-based applications for business intelligence, and ecommerce solutions.
Micros' revenue is generated through the sale of software licenses, hardware, services, and support.
Results top estimates on improved demand
Micros F3Q 2014 results topped estimates. It reported revenue of $349 million, an increase of $33.9 million or 10.7% over the comparable period a year ago and 10.2% on a constant currency. GAAP net income for the quarter was $50.3 million, an increase of $6.0 million, or 13.6.%, versus the comparable period the year before. GAAP diluted EPS for the nine-month period were $1.63, an increase of $0.04, or 2.5%, versus the comparable period the year before. Micros saw improved demand in both its U.S. and international segments, driven by several factors, such as an improved business environment, a site upgrade from Microsoft XP software, and new client wins. The U.S.–Canada segment grew 20.5% from the comparable quarter last year, driven by strong food and beverage and hotel vertical performance. The international segments grew 4.5% on a reported basis and 3.5% on a constant currency basis.
Micros sees growth in hardware, software, and service revenues and revises guidance
Article continues below advertisement
The company's increase in hardware revenue was largely due to an increase, especially in the U.S. and Canada, in the sales of Micros' proprietary hardware products, including its more traditional Workstation products and newer products such as the mTablet and the mStation, and an increase in the sales of third-party computer equipment. Software revenue was up primarily due to an increase in the sales of Opera software, two large sales of its payment gateway software to international customers during the three months ended December 31, 2013, and an increase in the sales of its cloud-based Simphony Enterprise Solution software. Service revenue increased due to a rise in recurring maintenance services, professional and implementation services, and SaaS/hosting services.
Micros said on the earnings call that the hotel vertical saw a strong quarter with revenue increasing 14.3% versus a year ago. The retail vertical saw a decline to 2.2% versus a year ago, with revenue up slightly at 0.6% on a year-to-date basis, mainly because of a decrease in the Nordic and Benelux regions due to difficult comps.
Micros' guidance for fiscal 2014 expects revenue between $1.360 billion and $1.385 billion and non-GAAP EPS from $2.53 to $2.57. This reflects an increase from the revenue and EPS outlook provided in January 2014.