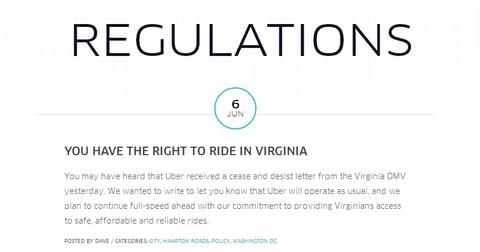 Why Uber faces problems with regulation and existing services
By Ingrid Pan

Updated
Uber is technically illegal in some jurisdictions
Uber has been banned or had its services significantly hindered by regulation in several regions. In Brussels, for instance, Uber could face fines of up to 10,000 euros for offering fares to drivers without an official taxi license. In Germany, the Berlin Taxi Association won an injunction against Uber that could prohibit the company from operating there, though the ruling isn't being enforced while Uber appeals the decision. In Las Vegas, a law that mandates that charter transportation services must charge by the hour with a one-hour minimum is prohibitive for Uber's operations. In Virginia, as you can see below, Uber received a cease and desist letter from the Virginia DMV.
Article continues below advertisement
Uber's business model could also put it at a disadvantage to other services. In Virginia, for example, Uber and Lyft are banned (though they reportedly continue to operate there), while Hailo is allowed to operate. This is because Hailo specifically pairs existing licensed and insured drivers with customers, while the other two services don't use official taxis in Virginia.
Official taxi drivers protest that Uber introduces unfair competition
Plus, services such as Uber face resistance from the corps of existing licensed taxi drivers all over the world. Earlier in June, taxi drivers in cities such as London, Berlin, Paris, and Madrid protested against the company. Generally, taxi drivers must pay significant sums for licenses or the ability to operate an official cab as well as pass certain tests and background checks. Their complaint is that the process to become an Uber driver is less costly and stringent, and Uber introduces unfair competition to the market.
Article continues below advertisement
Uber's latest round of funding gives it ample dry powder to fight regulations and lobby for its cause. A likely scenario is that Uber will likely be able to work with regulators and other parties to agree on some form of operations that's technically legal in most or all of the geographic areas it wants to serve. Already, Uber has been aggressively appealing to its customer base to contact legislators to fight restrictive laws, such as with this company-authored blog post about "Moving Florida Forward," where the company writes, "It's time for Florida to join 85 markets worldwide where Uber delivers reliability and style at the tap of an app. Show your support for Uber in Florida by contacting your representative. Tell them to vote 'YES' on SB 1618 and HB 1389 and to #MoveFLForward."
Outlook
Though Uber in its current form operates as a service to connect passengers to drivers, the company could operate in the future as a logistics provider on the scale of FedEx (FDX) and United Parcel Service (UPS). Uber could also affect the operations of same-day delivery services provided by companies such as Amazon (AMZN) through Amazon Prime, or eBay (EBAY) through eBay Now. Plus, transportation could be completely changed with solutions that draw from Uber's geographic reach and technology and the advent of driverless cars from a company such as Google (GOOG), which has funded part of Uber through its investment arm called Google Ventures. eBay, Google, FedEx, UPS, and Amazon are part of the S&P500 Index and corresponding ETF (SPY). We'll discuss these themes later in this series.