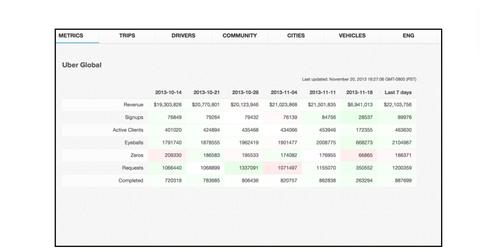 Uber's breakneck growth: How the company grows and makes money
By Ingrid Pan

Updated
Uber's business
Uber makes money by taking 20% of all fares. According to a leak of the company's financials (shown below), in late 2013, the company was generating revenue of roughly $20 million per week, resulting in an annual run rate of ~$1 billion. If Uber nets ~20% of that, run rate sales net of payouts to drivers totaled ~$200 million annually.
Uber also institutes "surge pricing," which raises prices (with some customers reporting charges of 8x to 9x the base price) during periods of high demand, such as special events or bad weather. Earlier this year, Uber also rolled out a feature called "Surge Drop," which notifies customers if surge pricing will end within the next half hour.
Article continues below advertisement
Though Uber's financials aren't public, the company's current growth rate is very high, judging from its aggressive expansion. In its only four years of operations, the company has already expanded into over 125 cities on internationally. The company has also used aggressive promotions, such as offering free rides in new city rollouts, and a proliferation of discount codes. Plus, ostensibly, Uber's investors get an inside look at the company's financials. The latest round of funding, which was announced just a few weeks ago, values the company at $17 billion, with the prior round of funding (completed in August 2013) valuing it at $3.5 billion. This implies that the company is growing at a breakneck rate.
Note that revenue growth doesn't necessarily mean that the company is cash flow–positive yet. On the cost side, Uber's biggest expense is likely personnel (salaries of management, developers, legal, customer relationship staff, et cetera). Other expenses likely include marketing costs, rent, servers, and other sales, general, and administrative expenses. As Uber scales up, it will become more and more profitable, as each incremental ride booked through Uber results in near zero incremental expenses.
Outlook
Though Uber in its current form operates as a service to connect passengers to drivers, the company could operate in the future as a logistics provider on the scale of FedEx (FDX) and United Parcel Service (UPS). Uber could also affect the operations of same-day delivery services provided by companies such as Amazon (AMZN) through Amazon Prime, or eBay (EBAY) through eBay Now. Plus, transportation could be completely changed with solutions that draw from Uber's geographic reach and technology and the advent of driverless cars from a company such as Google (GOOG), which has funded part of Uber through its investment arm called Google Ventures. eBay, Google, FedEx, UPS, and Amazon are part of the S&P500 Index and corresponding ETF (SPY). We'll discuss these themes later in this series.