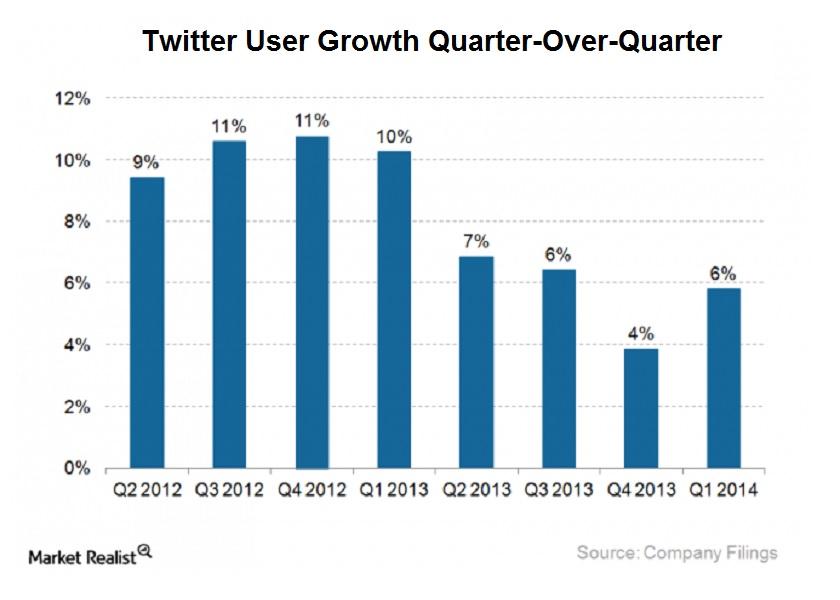 Why Twitter stock is down over 50% from December 2013 highs
By Ingrid Pan

Jun. 13 2014, Published 1:40 p.m. ET
Twitter stock is down sharply from December 2013 highs
While Twitter didn't comment further on the reason behind COO Ali Roghawi's departure, there's a good chance that the executive's ouster is due to user growth that hasn't met expectations and the related downturn in TWTR's stock price.
Twitter's stock initially had a strong rally after its November 2013 IPO. After the IPO was priced at $26 per share on November 6, the stock popped after its first day of trading to $44.90 per share. In late December, the stock peaked at $73.31 per share, representing a greater-than-280% return on the IPO price.
However, the stock fell precipitously on a few major events, including disappointing 4Q13 and 1Q14 results, as well as the expiry of the company's lock-up period. The stock is currently trading at ~$37 per share.
4Q13 and 1Q14 earnings met Wall Street's earnings expectations but showed weak user growth
Article continues below advertisement
TWTR reported 4Q13 and FY2013 earnings on February 5. The market was disappointed by the results, as the company's stock price fell from $65.97 per share to $50.03 per share in the trading session following the announcement. While the company met or exceeded Wall Street analysts' consensus expectations with its financials, the stock fell on disappointing user growth. Quarter-over-quarter, the company's total monthly active user base grew by only 4%—a deceleration from its growth rate of ~9-11% through 2012 and ~6-7% in early 2013. For more background, see Why did Twitter's earnings leave some investors underwhelmed?
1Q14 earnings also disappointed investors, causing another steep price decline. The company reported earnings on April 29, and the stock price fell from $42.62 per share to $38.97 per share in the following trading session. Again, Twitter met or beat Wall Street consensus for the quarter and also upped its revenue and EBITDA guidance for 2014. However, user growth was again disappointing, with 255 million monthly active users as of March 31, compared to 241 million as of December 31—representing 6% quarter-over-quarter growth. For a more mature company, 6% quarter-over-quarter growth might be considered strong. However, Twitter's valuations were based on supercharged growth, and the stock price drop following earnings signals that whatever the market was expecting for Twitter's growth was much higher than 6%. For more analysis, see Twitter's user growth the only concern in an otherwise robust earnings.
Twitter is a minor component of certain tech and Internet ETFs, such as the Vanguard Information Technology ETF (VGT), the Social Media Index ETF (SOCL), and the First Trust DJ Internet Index Fund (FDN). Twitter is also a small component of the First Trust US IPO Index ETF (FPX).
Continue to the next part of this series to find out what investors should consider about Twitter over the next few quarters.