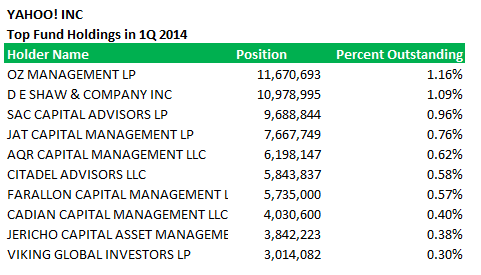 Steven Cohen's Point72 Asset Management ups its stake in Yahoo
Point72 Asset Management and Yahoo
Point72 Asset Management added new positions in BlackBerry (BBRY), Liberty Global (LBYTK), Estée Lauder Companies (EL), and Discovery Communications (DISCA). The main positions the fund sold include Foster Wheeler (FWLT) and Broadcom (BRCM). The fund's top position increases include Yahoo (YHOO) and Baidu (BIDU).
Steven Cohen's Point72 Asset Management upped its position in Yahoo! Inc. (YHOO) last quarter that now accounts for 2.18% of the fund's total 1Q portfolio. The position was increased from 0.59% of the 4Q 2013 portfolio.
Article continues below advertisement
Yahoo! Inc. (YHOO), together with its consolidated subsidiaries, is a global technology company that provides a variety of products and services, many of them personalized, including search, content, and communications tools on the web and on mobile devices. The company earns revenue from advertising and provides an opportunity to advertisers to be part of its more than 800 million monthly users' daily habits across products and platforms and engage audiences and build brand loyalty.
Yahoo focuses on growth via acquisitions
As part of its overall growth strategy, the company focuses on acquisitions aimed at enhancing its technical talent base, improving its technology and core products offerings, and expanding audience and engagement. It spent around $22 million on acquisitions in 1Q 2014. Recent reports noted that Yahoo is in initial talks to acquire the Israeli startup RayV Inc., which specializes in high-quality video streaming. The company has shown interest in the YouTube video network Fullscreen and online video service News Distribution Network. Yahoo is also reportedly looking to launch a video service similar to YouTube.
Yahoo's 1Q 2014 results are boosted by Alibaba
Article continues below advertisement
Yahoo announced its 1Q 2014 results recently, which were slightly above Wall Street expectations. It earned $0.38 per share on $1.087 billion in revenues (ex-traffic acquisition costs or TAC). GAAP net earnings for the first quarter of 2014 were $312 million or $0.29 per share, a 20% decrease compared to $390 million or $0.35 per share in the first quarter of 2013, driven by increasing expenses related to product development and sales and marketing. Yahoo said it made progress on its mobile strategy, with 430 million monthly users for mobile in the latest results, a 30% year-over-year growth. Yahoo's display advertising revenue (ex-TAC) was up 2% to $409 million and search advertising revenue increased by 9% to $444 million. Yahoo's advertising business faces intense competition from Google (GOOG), Facebook (FB), Microsoft (MSFT), and Twitter (TWTR).
Yahoo's stock has more than doubled over the last two years, as investors have been mainly attracted to Yahoo's stakes in Alibaba and Yahoo Japan. Yahoo's stake in Yahoo Japan is valued at about $9.2 billion. The Chinese e-commerce site Alibaba, which Yahoo owns around a 24% stake in, saw revenue surge 66% to $3.06 billion, while net income jumped 110% to $1.4 billion in 1Q 2014. Alibaba recently filed for a U.S. IPO, and Yahoo could raise more than $10 billion from the sale of 208 million shares in the process. Although Alibaba expects to raise $1 billion, according to its filing, analysts estimate Alibaba to raise around $18 billion and its valuation to reach at least $150 billion during the IPO. An unconfirmed CNBC report recently said Alibaba (ABABA) could debut in August.
Analysts believe Yahoo could use the cash from Alibaba's IPO for buybacks or make acquisitions to strengthen its core business and boost revenue.