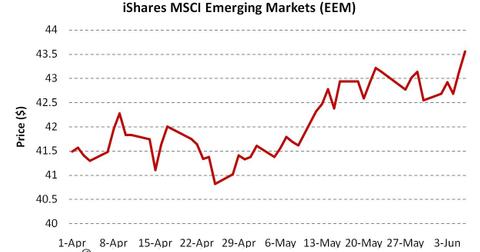 Russia, China, and India—a new Eurasian economy in the making
By Surbhi Jain

Updated
Russia and India
The Gazprom (OGZPY)-China National Petroleum Corporation (or CNPC) natural gas trade deal has been under the spotlight for many reasons. Apart from it being beneficial for both Russia and China, it's also gained attention from neighboring nations including India.
(EEM)" width="620" height="351">
According to the U.S. Energy Information Administration (or EIA), India is the fourth largest energy consumer in the world. Currently, 35% of the gas consumed in India is imported.
India has been paying a very high price for its gas imports. India was purchasing liquefied natural gas (or LNG) from Qatar at $12 per million British thermal units (or MMBtu) when the U.S. was paying just $3 for LNG from Qatar at the same time.
Article continues below advertisement
Although Russia's price to supply gas hasn't been disclosed, there are reasons to believe it could be in the range of $8-9 per MMBtu. India will benefit if it's able to get gas at this price. In fact, India could be a strong proponent to build a gas pipeline from Russia to India with the pipeline going through China. It will help reduce India's dependence on Qatar and the West.
Exchange-traded funds (or ETFs) like the iShares MSCI BRIC Index Fund (BKF) and the iShares MSCI Emerging Markets (EEM) invest in the market performance of emerging markets like China and India.
Other reasons calling for a Eurasian economy
Besides their need for gas from Russia, both India and China may have other interests as well. They would both like to strengthen their alliance with their ruble-spending neighbor.
China has been industrializing at a very past pace. Industrialization requires the commitment of a lot of resources, the most important, being water. China's need for this basic necessity is only going to increase. Given the density of its population, the amount of water that China has at its disposal isn't going to be sufficient. As a result, China may look at sourcing water in the future.
China will have to look no further than its neighbor, Russia, which has the world's largest water reserves compared to land mass. Russia also happens to have the world's second largest land mass—almost twice that of China or U.S.
India serves as a good example. India's population density is 2.8x that of China (according to World Bank, 2013). In return for better priced gas, India has a chance to offer its abundant manpower for the development of Russian mines, telecommunications, and other infrastructure.
Also, India and China are the largest consumers of gold, which Russia has in abundance. This is another reason for India and China to forge closer trade ties with Russia. There seems to be a definite calling for a China, India, and Russia alliance on more than just the gas front.
The availability of gas at lower prices will have a very positive impact on the investment climate in these Asian countries. Continue reading the next section of this series to learn how companies like General Motors (GM) and Ford (F) stand a chance to gain in the future.