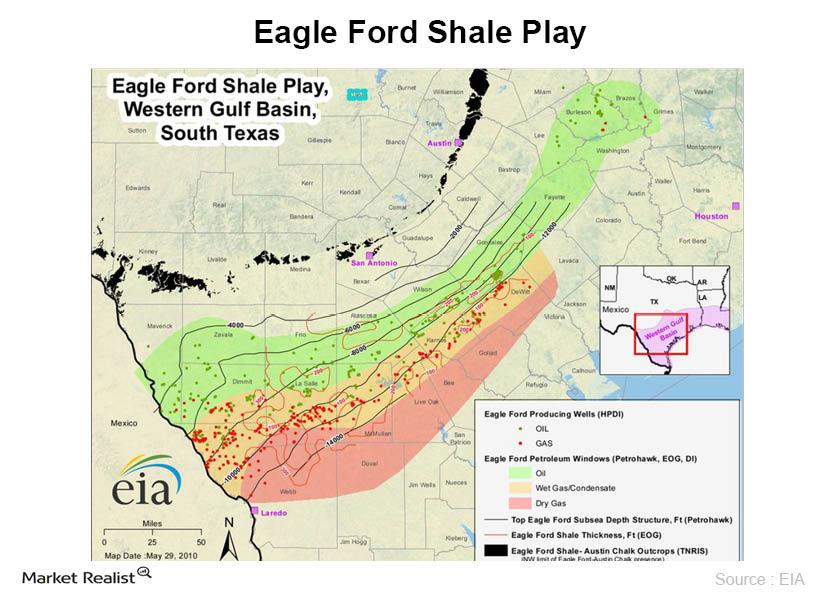 Overview: The Eagle Ford Shale Play
By Keisha Bandz

Nov. 20 2020, Updated 4:24 p.m. ET
Eagle Ford Shale Play
The Eagle Ford Shale is a gas and oil producing shale rock formation in south Texas. It extends to northeast Texas and touches the Mexican border. The play takes its name from the town of Eagle Ford, about six miles west of Dallas. According to The Railroad Commission of Texas (the public entity that regulates the exploration and production (E&P) of both oil and natural gas in the state), the play is 400 miles long and 50 miles wide, with the producing interval situated at depths between 4,000–14,000 feet. The shale is up to 400 feet thick in some areas, but averages 250 feet across the play.
Article continues below advertisement
The Eagle Ford Shale produces both oil and gas. Oil usually occurs in the northern part of the formation, while natural gas—which comes in two forms, wet and dry—exists in the southern parts. In contrast, most other plays produce either primarily oil (such as the Bakken) or gas (such as the Barnett). The fact that Eagle Ford contains both oil and gas is positive for its upstream producers. Recovering oil prices have helped spur development for oil because oil is currently commanding significantly better prices than natural gas on an energy equivalent basis. However, if a case needs to be made for drilling natural gas, natural gas condensate and natural gas liquids (or NGLs) such as ethane, propane, and butane (all of which are byproducts of processing raw natural gas), offer attractive prices as well. The Eagle Ford Shale is considered to be liquids-rich which has resulted in accelerated production. Therefore, producers can choose their rigs depending on their acreage as well as on the price of commodities. A recent report released by Baker Hughes (BHI), an oilfield services company, said that the Eagle Ford Shale has a rig count of 269.
Oil production versus gas production
The Eagle Ford is largely considered to be an oil play even though it produces both oil and gas. Most of the drilling activity there is oil-targeted due to oil prices being much higher than oil gas, making oil more profitable to drill. Additionally, many producers in the Eagle Ford have received premium pricing for their production as compared to West Texas Intermediate (or WTI) crude oil, the U.S. benchmark, as the production is located close to the Gulf Coast where a great deal of refining capacity is located. As a result, producers are likely to drill oil compared to gas if this continues. This can be seen by the U.S. Energy Information Association's (or EIA) recent Drilling Productivity Report. The report noted that the Eagle Ford oil output passed the million barrel per day mark in October, 2013, and hit a record of 1.2 billion barrels per day in December, 2013. The EIA expects the play to be one of the top contributors to the growth of U.S. oil output over the next ten years.
Upstream activity
Article continues below advertisement
Petrohawk Energy, which was acquired by BHP Billiton (BHP) in 2011, and Lewis Energy (LWSE) were some of the first operators to drill in the Eagle Ford Play. Most of the activity happening in Eagle Ford has been asset-based, with acreage changing hands. However, the play has seen a lot of mergers and acquisitions in 2013. The most prominent of these was Devon Energy Corporation's (DVN) $6 billion acquisition of assets from GeoSouthern Energy. This transaction implied a valuation of $45,000–$55,000 per undeveloped acre, which set a new price record for acreage in the play.
Other companies that have large acreage positions include EOG Resources Inc. (EOG) which is the largest crude oil producer in the Eagle Ford region. Pioneer Natural Resources (PXD) is another major player, that has major operations in the Eagle Ford. PXD is looking at expanding and double its asset base in the play in 2014, by divesting significant amounts of its other assets. E&P companies best placed to benefit from the development of the play are the ones with the largest acreage positions in the oil window. Most of the companies above are oil producers. It is important to note that most of these companies are a part of the Energy Select Sector SPDR Fund (XLE).
Devon Energy in particular was responsible for carrying out the largest deal in the Eagle Ford in 2013. To learn more about Devon's acquisition, read our Market Realist series on Must-know points from Devon Energy's $6 billion acquisition.
Apart from Devon, EOG Resources (EOG), and Pioneer Natural Resources (PXD) stand to be the largest beneficiaries in the Eagle Ford. Continue reading the next section of this series.