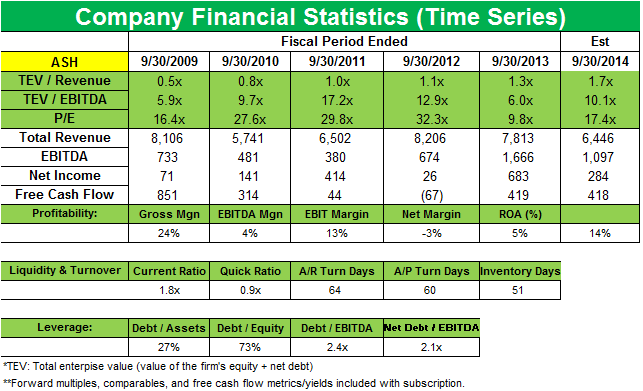 Must-know: Why Maverick adds new position in Ashland
By Samantha Nielson

Dec. 4 2020, Updated 10:53 a.m. ET
Maverick Capital adds new position in Ashland
Lee Ainslie's Maverick Capital started new positions in Ashland Inc. (ASH), 21st Century Fox (FOXA), Cubist Pharmaceuticals Inc. (CBST), and Ctrip.com International (CTRP). Top positions sold were eBay Inc. (EBAY) and Zoetis Inc. (ZTS).
Maverick Capital started a new position in Ashland Inc. (ASH), which accounts for a 3.09% position in the fund's 1Q portfolio.
Article continues below advertisement
Covington-based Ashland is a global specialty chemical company that provides products, services, and solutions that meet customers' needs throughout a variety of industries in more than 100 countries. Ashland's products are used in a wide variety of markets and applications, including architectural coatings, automotive, construction, energy, food and beverage, personal care, pharmaceutical, and tissue and towel. Its business consists of three reportable segments: Ashland Specialty Ingredients, Ashland Performance Materials, and Ashland Consumer Markets.
Ashland sees activist push from JANA
Ashland has seen pressure from activist investor JANA Partners, which acquired a stake in the chemical maker in April, 2013, to boost shareholder value. JANA's December, 2013, investor letter stated, "Management announced that the sale of the water division is on track for the first quarter of 2014, the proceeds from which will be committed to share repurchases. CEO Jim O'Brien has also committed to review the entire portfolio of assets beyond the sale of the water business. Earnings expectations for 2014 have been conservatively based after a difficult year for the Special Ingredients segment in 2013. We await further details of the corporate review but currently believe that shareholders would be rewarded in the event of a Valvoline spin-off."
Newswires have noted that Ashland and other large U.S. chemical companies, including DuPont and Dow Chemical Co., are seeing activist pressure to increase shareholder value by spinning off non-core and cyclical assets and focus on their core units.
Ashland divests assets and cuts jobs as part of restructuring
Article continues below advertisement
Valvoline motor oil maker Ashland is in the process of restructuring its businesses. It aims to improve operational performance while recognizing annualized cost savings. Ashland said it has identified approximately $200 million in annualized cost savings opportunities. The company said that within Valvoline, the restructuring plan is focused on reducing costs and improving margins, with a goal of growing earnings before interest, taxes, depreciation, and amortization (or EBITDA) margin. The restructuring would involve the loss of 800–1,000 jobs and relocation of another 1,000 jobs to lower-cost centers.
In February, Ashland sold its water-technologies unit to private investment firm Clayton, Dubilier & Rice in a deal valued at $1.8 billion. The company said it expects net proceeds from the sale to total approximately $1.4 billion, which will be used for share repurchases. Ashland said, "This divestiture allows us to focus on our core specialty chemicals business and to accelerate return of capital to shareholders." With annual sales of $1.7 billion and approximately 3,000 employees worldwide, Water Technologies supplies specialty chemicals and services to the pulp and paper and industrial water markets. Water Technologies' sales decreased less than 1% to $1,722 million in 2013. Also, last year Ashland said it plans to sell its $330 million elastomers unit, which provides high-quality styrene butadiene rubber primarily to the tire market.
Article continues below advertisement
Swiss chemicals company Clariant and Ashland recently sold its joint venture ASK Chemicals to funds affiliated with private equity investment firm Rhône. Total pre-tax proceeds to the sellers was $205 million, which included $176 million in cash and a $29 million note from Rhône. ASK generated revenue of $707.7 million in 2013.
Ashland misses estimates and posts loss
Ashland missed estimates and swung to a loss of $44 million for the fiscal 2Q14 from a profit of $53 million in the same quarter a year ago. The results included two charges related to Ashland's global restructuring, a $70 million after-tax, non-cash charge related to pension plan re-measurements, and a $61 million after-tax charge related to cost restructuring efforts. Sales fell 0.3% to $1.55 billion for the quarter ending March 31. The company also announced that chairman and chief executive James J. O'Brien will retire at the end of the year.
Ashland said its Performance Materials and Valvoline segments posted growth in both sales and profitability. The management commented that "Within Ashland Specialty Ingredients, sales rose a healthy 11% when compared to the December quarter thanks to growth in our core divisions, while EBITDA margin returned to the 20% level. Performance Materials reported strong volume gains in both adhesives and composites, as well as significantly improved performance within elastomers. Valvoline reported a record second quarter in operating income, with good growth in lubricant volumes and sales, as well as improved product mix."
Ashland boosts buyback to drive shareholder value
During 1Q14, the board authorized a $1.35 billion buyback program. This new authorization replaced Ashland's previous $600 million share repurchase authorization, approved in May, 2013, which had $450 million remaining. It also declared a quarterly cash dividend of $0.34 per share last month.