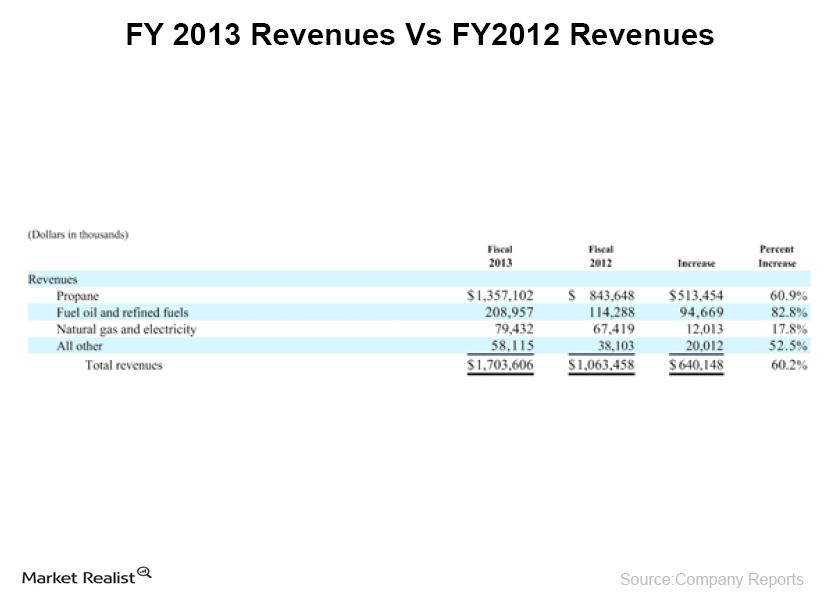 Must-know: Suburban Propane Partners' company trends
SPH's company trends
Suburban Propane Partners L.P. (SPH), a master limited partnership (or MLP), is the marketer and distributor of a diverse array of products including propane, fuel oil, and refined fuels, as well as the marketing of natural gas and electricity in deregulated markets
SPH's business can be broadly divided into three categories—Propane, Fuel Oil and Refined Oil, and Natural Gas and Electricity.
Article continues below advertisement
As we can see from the graph above, revenues from the distribution of propane and related activities of $1,357.1 million for fiscal 2013 increased 60.9%, compared to $843.6 million for the prior year, primarily due to higher volumes sold. Revenues from the distribution of fuel oil and refined fuels of $209.0 million for fiscal 2013 increased 82.8%, from $114.3 million for the prior year. Revenues in the natural gas and electricity segment increased 17.8%, to $79.4 million in fiscal 2013 compared to $67.4 million in the prior year as a result of higher natural gas volumes sold and higher electricity average selling prices.
This increase in revenues was primarily as a result of the addition of Inergy Propane, as well as a colder-than-normal temperatures.
Acquisitions as a growth strategy
One of Suburban's growth strategies is to grow their core business through the acquisition of local, regional, and national propane distributors even as they compete for acquisitions with others engaged in the propane distribution business like Ferrellgas (FGP), AmeriGas (APU), and NGL Energy (NGL). It is important to note that Suburban Propane is a component of the Yorkville High Income MLP ETF (YMLP), which in turn tracks select MLPs as well as the Global X MLP ETF (MLPA).
Article continues below advertisement
Consistent with this strategy, the Inergy Propane Acquisition, completed on August 1, 2012, was a transformative event for Suburban. It expanded their geographic reach, doubled the size of their customer base, and enabled them to achieve operational synergies by combining operations in overlapping territories
With the Inergy Propane Acquisition, SPH doubled the size of its customer base enabling it to expanded their geographic reach into 11 new states, including establishing a presence in portions of the Midwest region of the United States.
EBITDA trends
Prior to the Inergy deal, SPH had an average earnings before interest, taxes, depreciation, and amortization (or EBITDA) in the range of $185 million. For fiscal year 2013 (ending September 30), the company delivered an EBITDA of $329 million as compared to $108 for the year prior.
Therefore, the Inergy Acquisition is consistent with SPH's growth strategies. During fiscal 2014, SPH is expected to continue to reap benefits from the acquisition even as the integration procedure continues.
However, with most synergies realized from the Inergy deal, Suburban Propane will need to continue to find value-accretive acquisitions as growth within the propane distribution industry is dependent on a company's ability to acquire other retail distributors and to achieve internal growth, even as SPH competes with APU and SPH who also aim to expand their businesses through acquisitions.
To learn about SPH's recent financial results in detail, continue reading the next sections in this series.