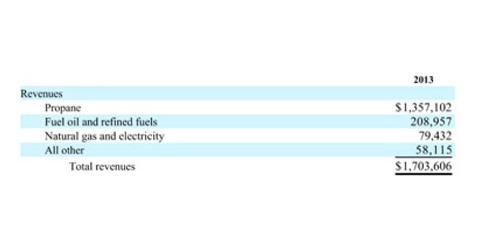 Must know: An overview of the propane industry
By Keisha Bandz

Nov. 22 2019, Updated 7:17 a.m. ET
Industry overview
Propane is typically extracted from natural gas or separated during crude oil refining.
Residential and commercial customers use propane primarily for heating and cooking purposes. Industrial customers use propane to fire furnaces and as a cutting gas. Industrial customers also include large-scale heating accounts and local gas utility customers who use propane as a supplemental fuel to meet peak load deliverability requirements. As a motor fuel, propane is burned in internal combustion engines that power over-the-road vehicles, forklifts, commercial lawn mowers, and stationary engines. Agricultural uses include tobacco curing, chicken brooding, and crop drying.
Article continues below advertisement
Suburban Propane Partners (SPH) sells propane primarily to six customer markets: residential, commercial, industrial (including engine fuel), agricultural, other retail users, and wholesale. Approximately 97% of the propane gallons sold in fiscal 2013 were to retail customers, 49% to residential customers, 29% to commercial customers, 6% to industrial customers, 5% to agricultural customers, and 11% to other retail users. The balance of approximately 3% of the propane gallons sold was for risk management activities and wholesale customers.
Revenues from propane sales in fiscal 2013 amounted to approximately ~$1.36 billion.
It is important to note that SPH is a part of the Yorkville High Income MLP ETF (YMLP), an ETF that tracks select master limited partnerships (or MLPs).
Propane distributors compete for customers with suppliers of electricity, fuel oil, and natural gas primarily on the basis of price, availability, and portability. Electricity is currently more expensive than propane, but the convenience of electricity makes it an attractive energy source for consumers. Fuel oil is also a major competitor of propane and is generally more expensive than propane. However, they both require different types of installation. Residential furnaces and appliances that burn propane won't operate on fuel oil unless fuel oil becomes significantly cheaper than propane. Propane also serves as an alternative to natural gas in rural and suburban areas where natural gas is unavailable or portability of the product is required. It also competes with gasoline, diesel fuel, electric batteries, fuel cells, liquefied natural gas (or LNG), and compressed natural gas.
The determinants of propane prices
The propane distribution industry is dependent on several external factors. These include supply and demand dynamics, propane prices, markets served, and cost of alternative sources of energy.
Supply and demand dynamics
Article continues below advertisement
While propane production is not seasonal, residential demand is highly seasonal. This imbalance causes inventories to be built up during the summer months when consumption is low and to be drawn down during the winter months when consumption is much higher. At the start of the winter heating season when inventories of propane are low, the increased demand due to the cold weather puts pressure on propane prices and drives them up. Also, due to transportation costs, customers farthest from the major supply sources (the Gulf Coast and the Midwest) will generally pay higher prices for propane.
SPH's propane supply is purchased from approximately 65 oil companies and natural gas processors at approximately 160 supply points located in the United States and Canada. Targa Liquids Marketing & Trade, subsidiary of Targa Resources Partners (NGLS) and, Inergy Services, subsidiary of Inergy, supplied approximately 46% of SPH's Fiscal 2013 propane supply. It is important to note that Inergy (NRGY) was acquired by SPH in August, 2012. In 2013, Inergy and Crestwood Midstream Partners (CMLP), merged to form Crestwood Equity Partners (CEQP). Targa Resources is a component of the Alerian MLP ETF (AMLP), while CEQP is a component of the Global X MLP ETF (MLPA).
Colder-than-normal weather
Article continues below advertisement
Increased demand due to a colder-than normal winter weather can put extra pressure on propane prices as well. This is because there are no readily available sources of inventories to accommodate the increased supply. SPH noted in its recent earnings report that weather for the quarter ending December 31, 2013, was 9% colder than the prior year.
Markets served
Propane demand comes from several different markets that exhibit distinct patterns in response to the seasons and other influences. For example, residential demand depends on the weather, so prices tend to rise in the winter. The petrochemical sector is more flexible in its need for propane. It tends to buy propane during the spring and summer, when prices decline. Agricultural uses of propane include crop drying, and weed control. The amount of propane used for crop drying, the largest component of farm use, is not only seasonal (highest in fall months), but is also dependent on crop size and moisture content. Agricultural use of propane is primarily concentrated in the Midwest.
Propane price volatility
Propane prices occasionally spike, beyond normal supply and demand fluctuations. The main cause appears to lie in the logistical difficulty of obtaining resupply during the peak heating season (November–March). Logistical challenges include weather and transportation costs. Because propane is produced at a relatively steady rate year-round, there's no ready source of incremental production when supplies run low. Propane wholesalers and retailers are forced to pay higher prices due to dwindling supply. Consequently, higher propane prices are passed on to consumers.
Cost of alternative sources of energy
The gradual expansion of the nation's natural gas distribution systems has resulted in the availability of natural gas in some areas that previously depended upon propane. Natural gas is cheaper than propane. However, natural gas pipelines aren't present in many areas of the country where propane is available.
To learn about the two major factors affecting propane demand, continue reading the next sections in this series.