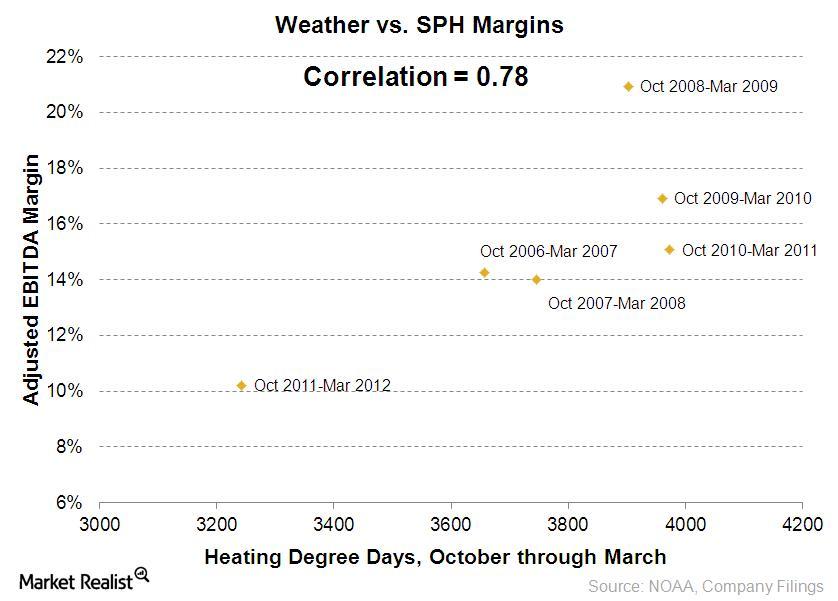 Must-know: Correlation between weather and propane demand
Correlation between weather and propane demand
Weather conditions have a significant impact on demand for propane. The volume of propane use is affected by the severity of the winter weather which may vary substantially from year to year. Warmer-than-normal temperatures will result in reduced propane usage, while colder-than-normal temperatures will result in greater usage.
Heating degree days as temperature indicators
Article continues below advertisement
Heating degree days measure the difference between the outside temperature and room temperature to help calculate the demand for energy needed to heat a given area. Greater heating degree days represent colder weather, while lesser heating degree days represent milder weather. For the winter heating season to date (beginning in October), cumulative heating degree days have totaled 4,097 compared to a historical average of 3,862, making for a colder-than-normal winter. This is a positive for propane demand. Colder weather is positive for the margins of propane distributors. The following graphs display the correlation between heating degree days and earnings before interest, taxes, depreciation, and amortization (or EBITDA) margins for Suburban Propane for the past seven years of heating seasons. (Note: EBITDA margins for companies are for the full fiscal year—not only the heating season. Propane companies generate the greatest proportion of EBITDA during the heating season.)
This winter's weather has been far colder than last year, and colder than normal. To learn more about how recent weather has affected propane demand see Cold weather at the end of March supports natural gas demand.
In the recently released 1Q14 results for the three months ending December 31, Suburban Propane Partners (SPH) noted that the average temperature during fiscal 2013 were 4% warmer than normal and characterized by unseasonably warm temperatures (especially in the West Coast which was unseasonably warm) followed by colder than normal temperatures late in the heating season (December). This resulted in retail volumes being up 157.9 million gallons from 153.9 million gallons in the prior period due to weather that was 9% colder than the prior year. However, the average temperature for the entire season was 4% warmer than normal compared to fiscal 2012 average temperatures, which was 14% warmer than normal. Weather fluctuations are a notable data point for holders of propane distributers, such as AmeriGas (APU), Suburban Propane Partners (SPH), and Ferrellgas Partners (FGP) where colder weather is positive for the margins of these companies. It's important note that APU comprises a portion of the Yorkville High Income MLP ETF (YMLP), an ETF that tracks the Solactive High Income Index, which in turn tracks select master limited partnerships (or MLPs) as well as the Global X MLP ETF (MLPA).
Continue reading the next sections in this series to learn about one more crucial factor affecting propane demand.