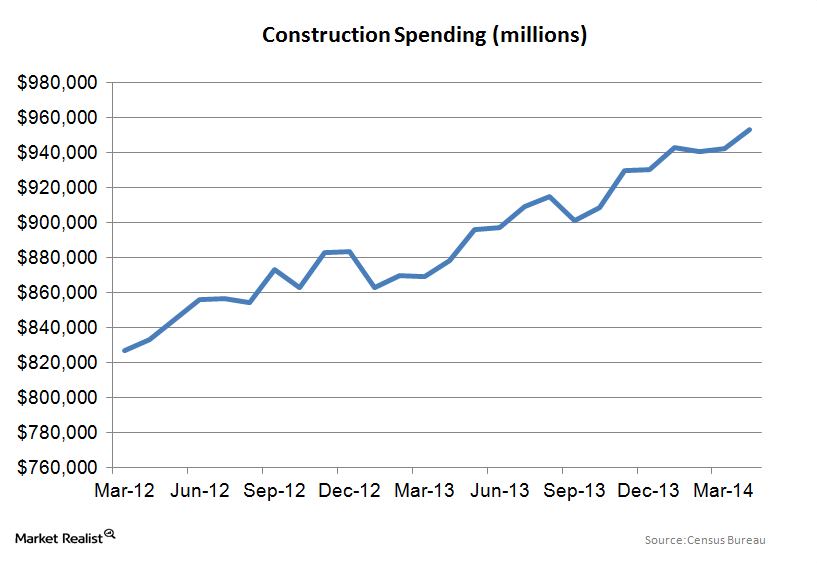 Must-know: Why did construction spending tick up in April?
Construction spending rises 0.1% month-over-month in April
Construction spending rose to a seasonally adjusted annual rate of $953.5 billion in April from $951.6 billion in April. Spending is up 8.6% year-over-year. Private construction was flat, while public construction rose 0.8% month-over month. Public construction has been coming back recently and is now positive on a year-over-year basis. Year-over-year, private construction is up 11.7%. Residential construction rose 0.1% month-over-month and is up 17.2% year-over-year. Non-residential construction is up 5.6% year-over-year.
Article continues below advertisement
Construction spending is at post-recession highs, but it's still depressed. That level equates to mid-2003 spending levels. Construction spending peaked at $1.2 trillion in March of 2006. It bottomed in February 2011 at $746 billion. The report doesn't break out single-family construction versus multi-family construction, so it's hard to tell how this plays out for homebuilders. Multi-family housing starts are notoriously volatile. Homebuilders compete with rentals for new household formation, and as the supply of rental properties increases, rents should fall relative to house prices. This will negatively affect new home pricing at the margin. Homebuilders like Lennar (LEN) PulteGroup (PHM), Toll Brothers (TOL), and D.R. Horton (DHI), will feel the impact of an increasing rental property supply. Offsetting this effect will be the current low inventory level. Investors can participate through the S&P SPDR Homebuilder ETF (XHB).
Right now, the difference between renting and buying is heavily skewed in favor of buying. When you consider the difference between median house prices and median rents, purchasing is cheaper. Rock-bottom interest rates and low prices for starter homes are making homeownership very affordable. As the job market improves for younger adults, those who are currently renting will contemplate homeownership. The Obama Administration has been pushing banks to lend more and to use FHA loans for first-time homebuyers. FHA loans require only 3.5% down payment, so they're perfect for the first-time homebuyer. This move from renting to purchasing will help homebuilders over the longer term.