Why monetary policy's still abnormal as the FOMC nears its target
By Surbhi Jain

Dec. 4 2020, Updated 10:52 a.m. ET
James Bullard and monetary policy
While addressing the Tennessee Bankers Association's annual meeting in Palm Beach, Florida, on June 9, 2014, James Bullard explained how the FOMC is moving closer to its target while monetary policy still maintains a distance from its objective.
Bullard provided two reasons for the monetary policy stance remaining far from normal.
The labor markets haven't fully recovered to their pre-crisis (2009) levels.
Inflation remains low, undershooting its target of 2%.
The labor market
Bullard explained the state of the labor market now compared to the pre-crisis labor market, using the help of a chart. While all the important components that characterize the state of the labor market—including leading indicators, employer behavior, confidence, and utilization—were balanced in December 2004, labor utilization and confidence in the labor market took a major hit in the recession that followed the 2008 credit crisis. The labor utilization rate defines the job finding rate, the number of marginally attached workers, and the share of workers who work part-time for economic reasons. It took a major hit and still needs to see a lot of recovery. These reasons also account for slack in the labor market, according to many eminent FOMC members, including Chairwoman Janet Yellen.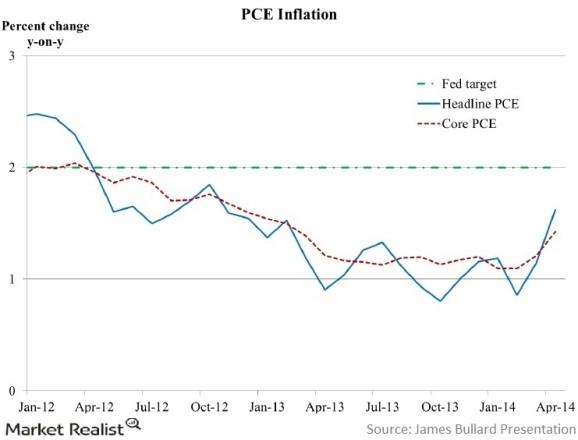 PCE inflation
Article continues below advertisement
The personal consumption expenditure (or PCE) measure is the component statistic for consumption in the GDP. It's collected by the Bureau of Economic Analysis. PCE is essentially a measure of goods and services targeted towards individuals and consumed by individuals. It's the primary measure of inflation that the Federal Reserve uses. The less volatile measure of the PCE price index is the core PCE (or CPCE) price index, which excludes the more volatile and seasonal food and energy prices.
The inflation rate prevailing in the economy has also remained low for a while now. With the Fed's long-run target inflation rate at 2%, the current rate needs a considerable boost to recover to its target level.
With inflation still below target, although rising, and unemployment still high but falling, the FOMC faces a classic monetary policy challenge. The most pertinent question the FOMC needs to answer is how quickly the committee should move to return monetary policy to normal, given improving macroeconomic conditions.
For ETF investors, the performances of popular exchange-traded funds (or ETFs) like the SPDR S&P 500 ETF (SPY), the iShares Core S&P 500 ETF (IVV), and the iShares S&P 100 ETF (OEF), which track the large-cap equities of companies like Apple Inc. (AAPL) and Exxon Mobil Corp. (XOM), serve as a good indicator of the course the U.S. economy is taking.